A baby shower is a wonderful opportunity for your beloved friends and family to celebrate you and the blessing of motherhood. As such, it is important to dress for the occasion. While baby showers may not be as formal as weddings, wearing a shirt and jeans might be too casual.
What to wear to my baby shower? There are several great options to wear to your baby shower. Considering a few factors, such as the theme, formality, and season, awesome options can include mini dresses, midi dresses, blouses and skirts, sweater dresses, and blazers.
This article will give you a few ideas of what to wear to your baby shower. Seeing as you are going to be the celebrant of the baby shower, you will need to get into something appropriate for the event.
What to Wear to My Baby Shower? (Factors to Consider)
Many women can take hours to decide what to wear to an event. Fortunately, there are some factors you can consider to help you make a decision as to what you can wear to your baby shower.
Theme
One of the first factors you would need to consider when choosing what to wear to your baby shower is the theme of the event. As the main celebrant, you might want to wear something that would go well with the theme chosen.
For a simple and elegant baby shower, a white dress is a timeless choice. White is a favorite among mothers-to-be as white appropriately symbolizes the innocence and purity of a child. While dresses are not required, they are great options for emphasizing femininity.
Other women tend to theme their baby showers around the gender of their baby. Instead of a white color palette, baby showers themed this way would either be blue or pink. The expecting mothers can then wear something to match the event.
Formality
Another factor to consider is the formality of the event. Most baby showers are not casual events – thus, a shirt and jeans may not cut it. However, baby showers do not tend to be too formal as well. These parties tend to be right in the middle: smart casual.
Smart casual does not necessarily mean dresses for women. They can still wear jeans to a baby shower. However, it would be more appropriate to dress the outfit up with smarter pieces.
An easy way to get a sense of the formality expected is to think of the venue of the baby shower. A baby shower thrown at home might be more casual than a baby shower thrown at a country club.
Season
Lastly, an important factor to consider is the season. An outfit for a summer event can be significantly different from a baby shower thrown during the fall. For your own comfort, it is important to dress accordingly.
For warmer seasons, such as spring and summer, you can choose outfits made of lighter fabrics. With higher temperatures, it is important to wear clothes that can let your skin breathe. On the other hand, you might want to choose heavier clothes for the cooler seasons.
13 Outfits to Wear for Your Baby Shower
Considering the factors mentioned above, here are some fabulous ideas that everyone will surely love.
White Mini Dress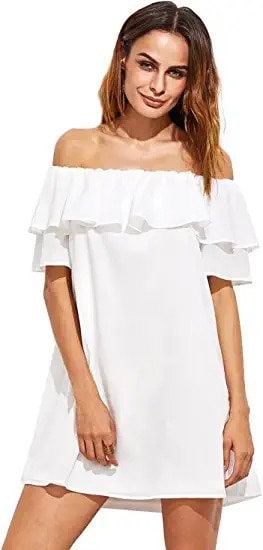 While it is suggested that every woman should have a little black dress in her wardrobe, it should also stand to reason that she should get herself a white mini dress as well.
White mini dresses are getting more and more popular for baby showers as they are elegant while being as simple as they come. It can be a plain white dress, or you can opt for a more lavish look with a dress adorned with laces.
White will always be a fan favorite when it comes to baby showers as the color represents many traits found in children such as innocence and purity. Additionally, white also works well with different colors which means that your white outfit will not clash if the theme of the baby shower has other colors.
Lastly, a mini dress should be on top of your considerations because of how well it fits the occasion. Since it is a dress, it is more upscale and smarter than a shirt and jeans. However, the shorter skirt of a mini dress exudes a more fun and vibrant vibe.
You can always opt for a longer dress for a more formal and conservative look.
Pastel Mini Dress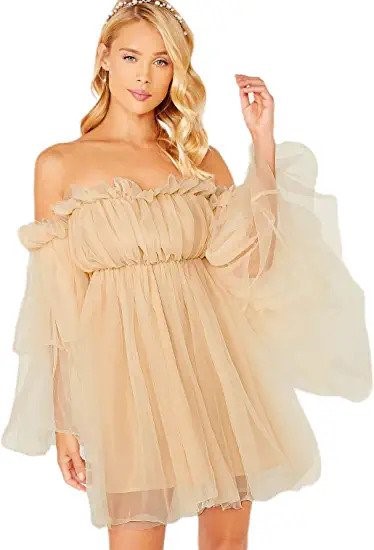 Understandably, white may not be enough for everyone. While it may suffice for many, other women want to have a splash of color in their attires. For these women, pastel mini dresses cannot be recommended enough.
Pastel colors are great for baby showers because while they can be used to express yourself through the use of different colors, the pastel colors themselves are soft and pale enough to still give off similar vibes to white.
If the theme calls for it, you can skip the pastel colors and go straight for fully saturated colors. While colors may clash, it will certainly be a colorful event.
Off-Shoulder Floral Blouse/Skirt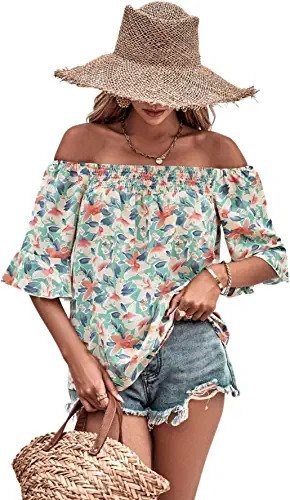 Dresses are excellent choices for pregnant women, but they're not the only options. If you want to wear jeans, you can easily scale the outfit up with a blouse. An off-shoulder blouse can also be a wonderful option to wear to your baby shower.
When it comes to an outfit's design, floral is another common one many women choose for their baby showers. Aside from just having beautiful designs, flowers are also worn often for their meaning.
Just like how the color white shares traits with children by symbolizing innocence and purity, flowers are often used to symbolize motherhood and femininity. Additionally, you can choose to wear florals during the spring and summer months to match the seasons.
Instead of a floral blouse, you can also opt for a floral skirt. An easy way to make the floral skirt pop would be to pair it with a relatively plain top. Since floral designs are relatively design-heavy, they look great when paired with simpler items.
Floral is amazing because of how versatile it can be. Aside from wearing it during spring and summer, floral can also be used for various themes, such as nature, flowers, and even boho.
Midi Dress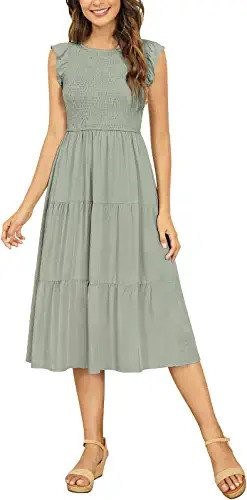 Another awesome option to wear to your baby shower is a midi dress. Midi dresses are excellent compromises that lie in between mini dresses and long dresses.
While aesthetically similar to mini dresses, midi dresses have relatively longer skirts. They typically go below the knee. However, they seldom go all the way down to the ankles. The longer length gives midi dresses a more elegant and refined look compared to mini dresses.
Midi dresses are great options for more upscale baby showers. White and pastel colors are fine, but stronger colors work well with midi dresses as well. For a more elegant look, stronger colors can include olive green, navy blue, brick red, ivory, and so on.
Sweater Dress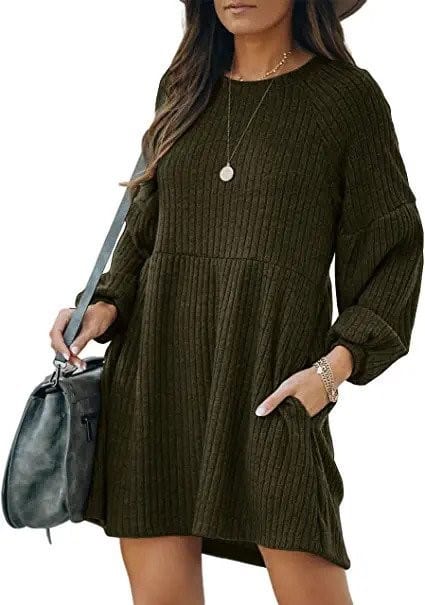 Baby showers are often very intimate occasions where the expecting couple only invites close friends and family to celebrate. Often taking place at home, a great option to wear to your baby shower would be a sweater dress.
Sweater dresses are versatile pieces that can look cute and adorable while being able to look stylish as well. However, the best thing about sweater dresses is comfort. Not only are they soft to the skin, but they are also excellent choices for baby showers during the colder seasons.
Although sweater dresses may seem more casual than smart casual, they toe the line of acceptability – especially for baby showers thrown at home. Worn well, sweater dresses can be more than enough for a baby shower. Plus, guests are typically more understanding when the expecting mother wants to wear something comfortable.
Patterned Blazer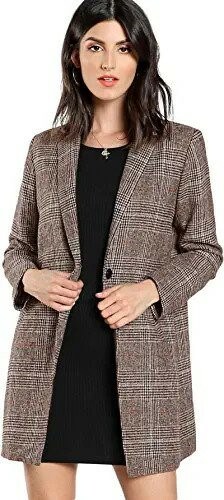 For the colder months, layers are necessary to keep warm. If you want to wear something warm to your baby shower, look no further than the patterned blazer. Not only is the patterned blazer a functional piece, but it is also an easy way to elevate your outfit to a whole new level.
While a plain, solid-colored blazer will do just as well, a patterned blazer is recommended to help accent a simple outfit. For example, a white blouse and white pants can be transformed with the addition of a plaid blazer on top.
Lace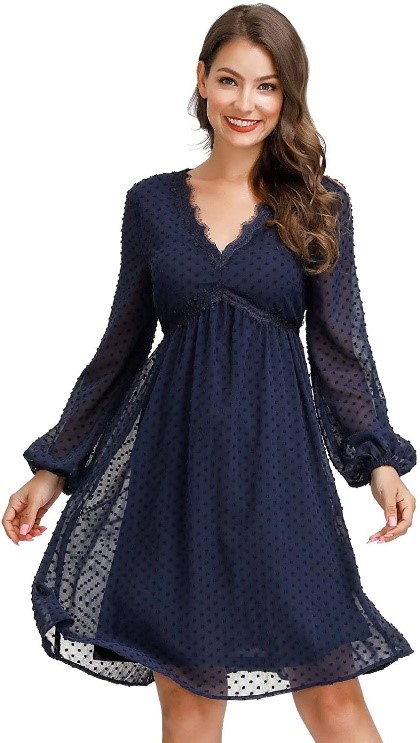 Baby showers are often more upscale than your usual party, so wearing a lace outfit will really help set that tone. You can find plenty of beautiful maternity gowns and tops that are adorned with lace all around. Lace maternity outfits are excellent options as they are extremely comfortable, and they help accentuate your femininity, a trait often made prominent for expecting mothers.
Floral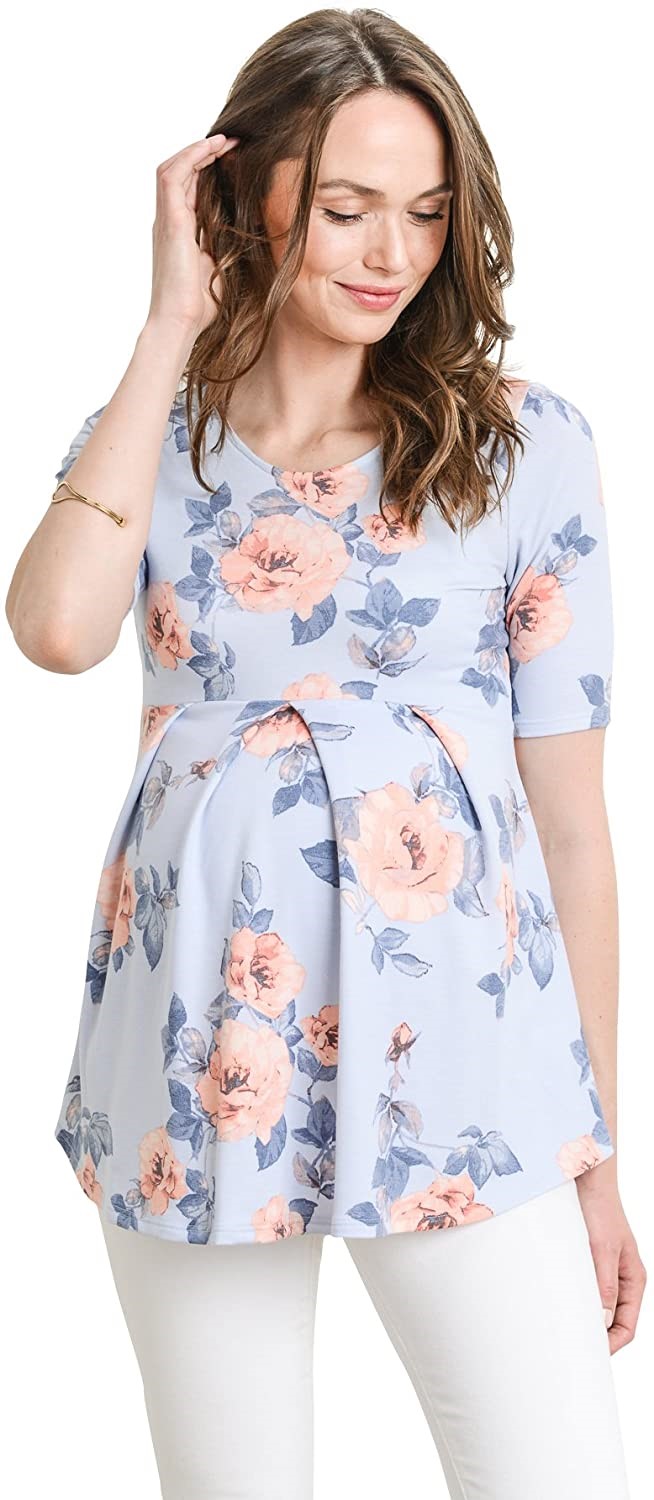 Many people enjoy celebrating their baby showers in a fancier way, but some people just want to celebrate their arriving baby with their close friends and family. For these people, you can't go wrong with something floral.
Throughout history, flowers have always been associated with femininity. You can find Greek goddesses depicted with flower crowns, and that theme resonates in modern society to this day. Floral-themed maternity outfits are a breath of fresh air for baby showers. They can look quite elegant while at the same time not making the event feel too formal.
Pastel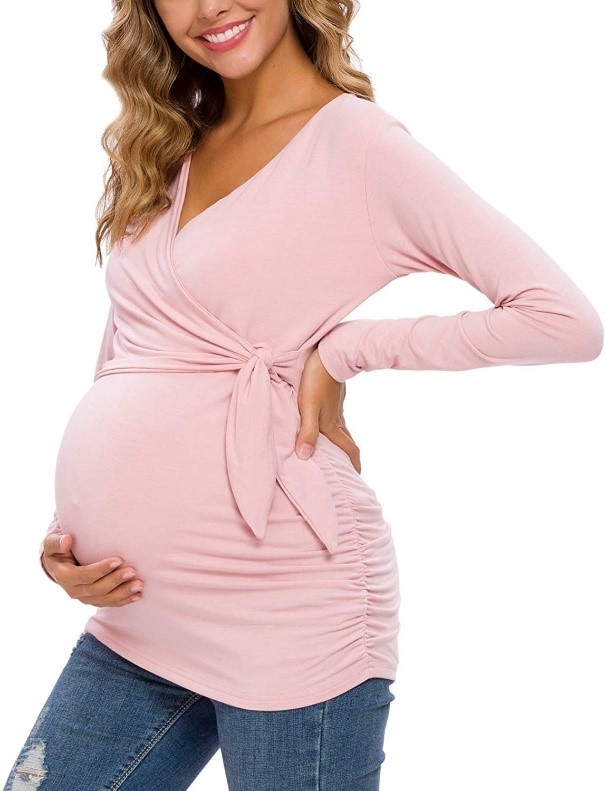 Wearing pastel or pale colors has been a growing trend in recent years. Pastel is especially popular for people who enjoy the minimalist aesthetic. Pastel has also been growing association with babies in general as these light colors are easier on the eyes compared to their more saturated counterparts.
Pastel is such a wonderful idea for baby showers because the unsaturated vibe of pastel colors somewhat represents the innocence of a baby coming into this world. The lightheartedness of pastel colors works great with any baby shower as it looks elegant while having fun with colors at the same time.
Off-Shoulder Ruffles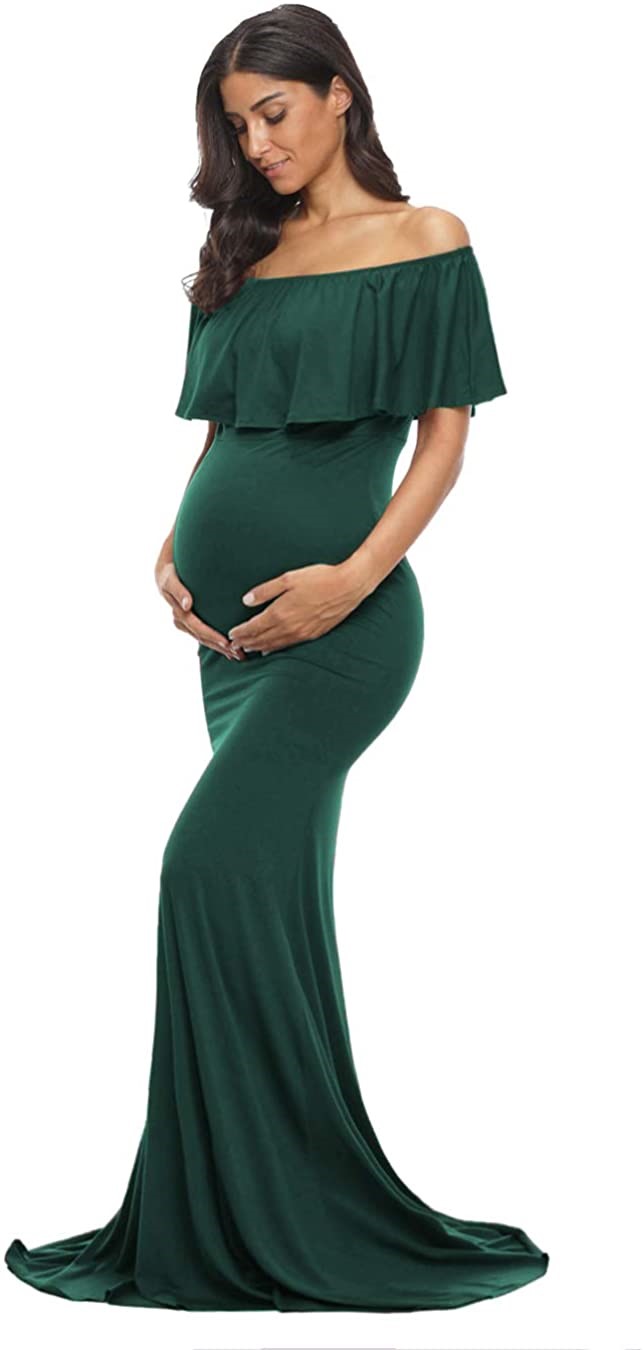 A style that you can consider wearing at your baby shower is something with off-shoulder ruffles. An off-shoulder option is an excellent choice for those who want to inject their look with a dose of feminine style. Dresses and tops with off-shoulder ruffles have a unique cut across the chest and upper arms, thereby showing off a person's bare shoulders.
Pregnant women are often depicted to be soft and caring. However, something as simple as wearing something with off-shoulder ruffles can help remind people that you are a brave woman who makes powerful decisions.
Turtleneck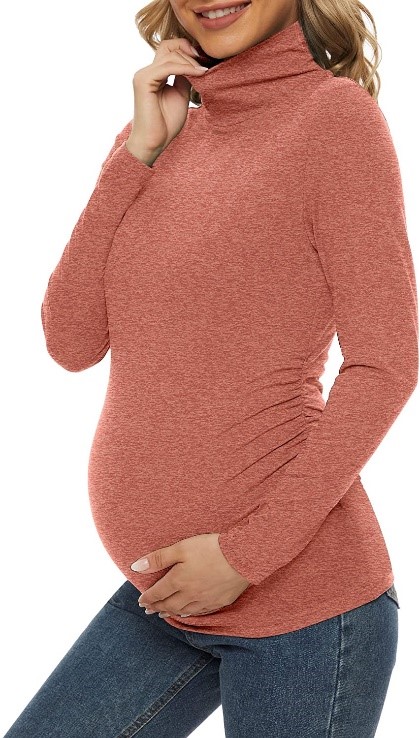 When your baby shower is scheduled for fall or winter, you have to dress according to the time of year. An excellent choice for the colder months is to wear a turtleneck. Many maternity dresses and tops have a turtleneck option which can help keep you warm while looking as chic as ever.
Aside from the thicker fabric, you might want to make sure to choose a turtleneck outfit with dropped long sleeves, a rounded hemline, and banded cuffs to keep you warm while looking fashionable. Wearing something like this also helps keep you feeling comfortable, which is always a great plus.
Jumpsuit

Another comfortable yet fashionable choice to wear at your baby shower is a maternal jumpsuit. These are such comfortable options that you can wear them out and about while feeling like you're just wearing pajamas.
Without sacrificing style, maternal jumpsuits are a pregnancy essential for women who want to keep a diverse wardrobe. Not letting the pregnancy get in the way of their style, fashionable mothers-to-be should heavily consider jumpsuits for their baby showers as there are tons of stylish options as well.
Solid Colors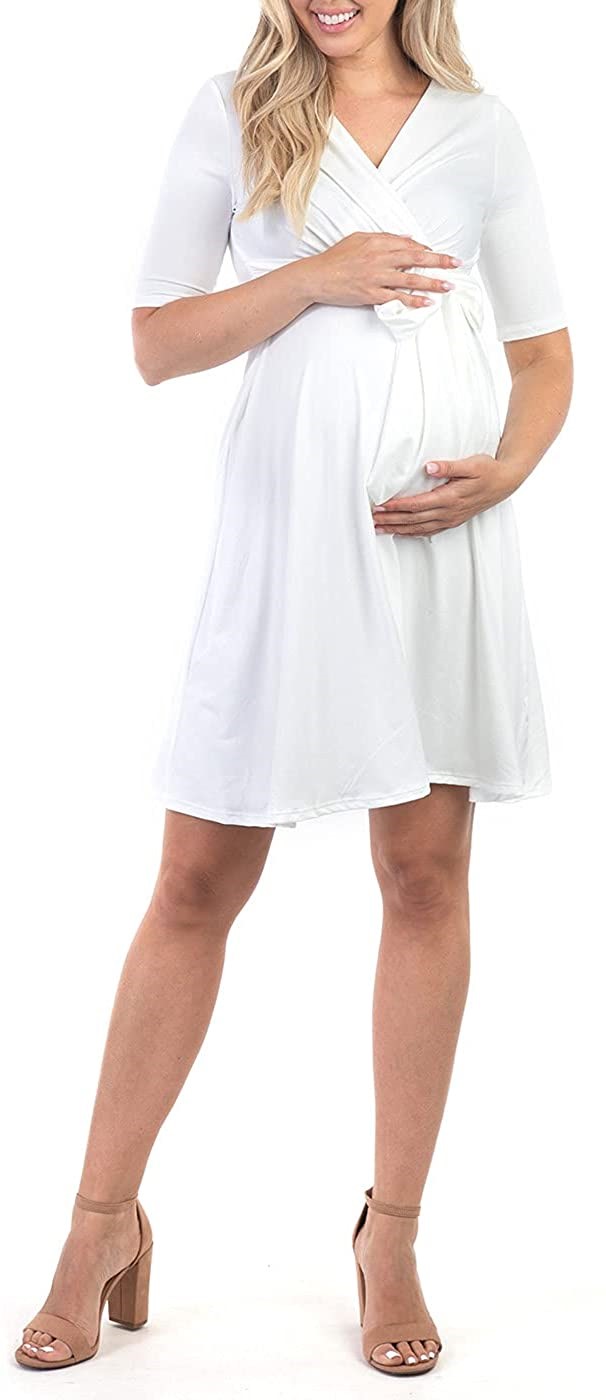 Sometimes, you just need an outfit with a solid color. Solid colors will always be a fashionable option, especially for baby showers. The best thing about wearing solid colors is that you have so many colors to choose from. Chances are, you already know which colors work for you and which colors to avoid. Thus, it shouldn't be a difficult choice to pick out which colors to get.
Some people go for solid pink or blue to represent their baby's gender, while some people get solid colors that match the theme of their baby shower. A strong color to consider is going for a simple white outfit. White will always be considered a pure color, and it is something that can be associated with the purity of motherhood and your baby.
What to Consider for Your Outfit
Season
The first thing that you should consider when choosing your baby shower outfit is the season. Understandably, there are outfits you can wear during one season but can't in another. However, that doesn't mean you can't wear something absolutely lovely regardless of the time of year.
For spring and summer, you can get away with a lighter fabric or something with less coverage, such as a short dress. However, you have to dress accordingly during the colder seasons with thicker layers.
Comfort
Comfort is an important factor to consider. Pregnancy isn't exactly a walk in the park, and you have to make life as comfortable as you can, where you can. Thus, wearing for comfort should be a heavy priority.
Aside from wearing something that feels soft to the skin and allows you to breathe, comfort can also be in your confidence. Many pregnant women are not as keen to get into maternity clothes while they can avoid it. These women are not as comfortable showing their baby bumps. However, there's nothing more beautiful than bringing a baby into the world, and hopefully, you take pride in wearing clothes that highlight your beautiful self.
Baby Shower Theme
If you can't decide what style to wear at your own baby shower, an easy option to help you decide is to pick out something that matches with the theme of your baby shower. Is your baby shower going to be minimalist? Go for something pastel. Is it going to be a formal event? Get a solid-colored dress.
Many people also opt to match their colors the theme of the baby shower. If the baby shower is adorned with predominantly pink decorations, a pink outfit can also work. However, some people choose to go the opposite route to stand out. The risk of matching colors with the theme of the party itself is that you run the risk of blending in with the decorations. Therefore, that's something to look out for.
Baby's Gender
Many people also opt to go with a color scheme to represent their baby's gender. This is simply done by wearing pink if they're having a girl and wearing blue if they're having a boy. Wearing colors to match your baby's gender can be a fun idea, and it shows how excited you are to have your baby.
Some people might think choosing to wear colors based on your baby's gender can box you into choosing two colors. However, blue and pink are both amazing colors with a lot of shades to choose from. Thus, you won't feel limited choosing something to wear to represent your baby's gender.