Baby showers are becoming more and more popular as important events where friends and family come together and celebrate the miracle of life. One of the best things about baby showers is that they can be whatever you want them to be. They can be elegant, quiet events or they can also be rowdy and noisy parties. While the theme helps set the mood, it is important to consider the location as well. Fortunately, the best places to have a baby shower don't have to empty the bank account.
There are several different places to hold a successful baby shower that won't leave you broke. These affordable venues include places such as a home, a garden, a beach, a park, a lake, a community center, a church hall, a rooftop, a restaurant, and even online. While each of these places has its pros and cons, they are all accessible and affordable for all.
This article will talk about the different places you can have an amazing baby shower while being wallet-friendly at the same time.
Places to Have a Baby Shower
At Home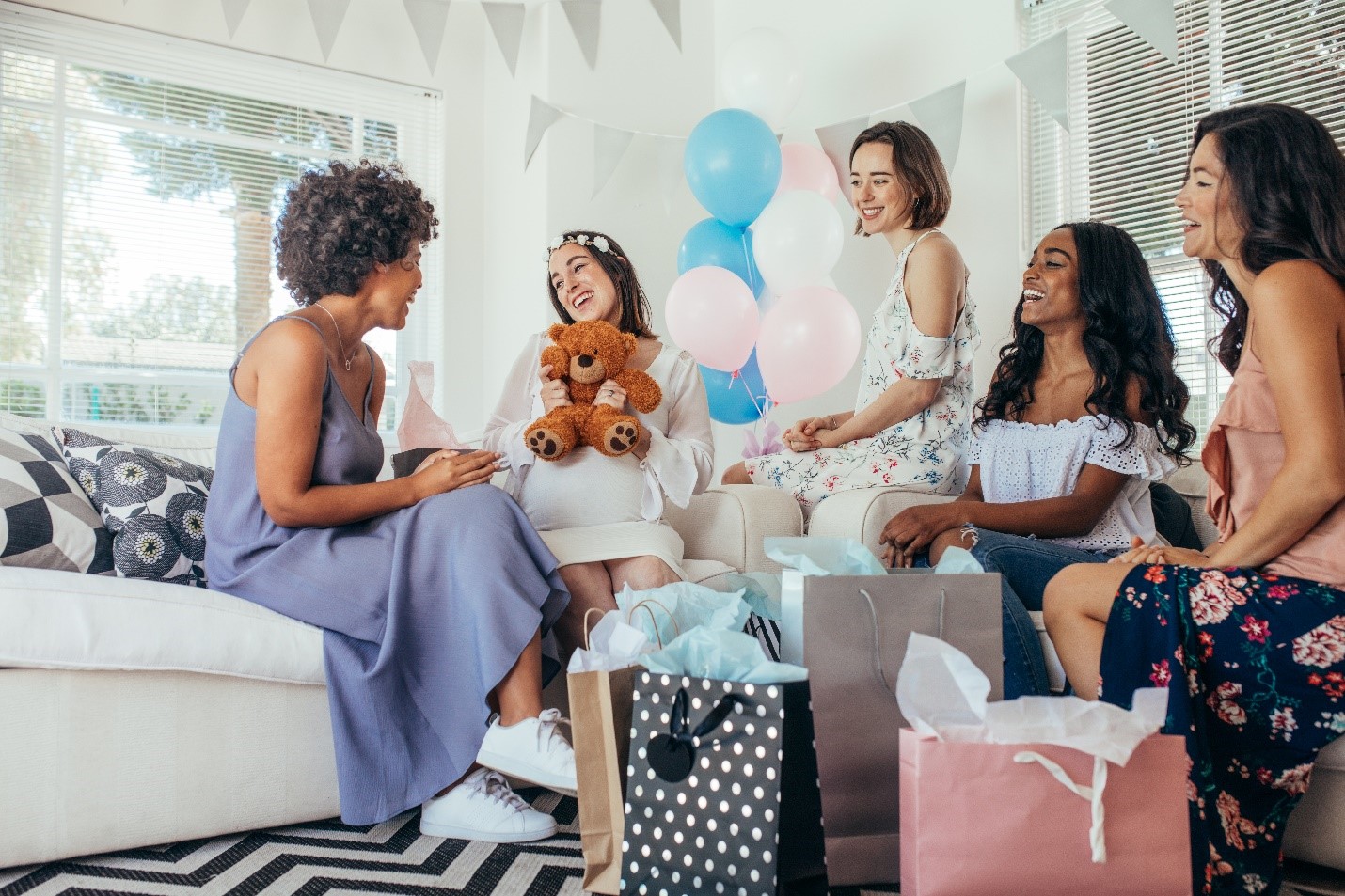 The very first option for many parents-to-be to consider for an affordable baby shower is their very home. Throwing a baby shower at home is an incredibly wise choice as it can be held any way the celebrants want it to be. Since it's their own home, they call all the shots. The theme can be anything under the sun as all it would need would be the appropriate decorations. You can prepare your home for the party yourself or you can have event organizers do it for you.
One of the best things about throwing the baby shower at home is the intimacy. Compared to a public setting, you will have the venue all to yourselves. This type of baby shower is best had with close friends and family. Since the party is at home, you can even show the guests the baby's soon-to-be nursery. The party will literally be held in the home where the baby will be brought up and raised.
You should also remember that your home is not the only available option. Close friends and family are typically eager to offer their homes as the venue as well if needed.
Perhaps the only negative factor for throwing the baby shower at home is the mess you'll have to clean up afterward. Understandably, the size of the mess will depend on the size of the party thrown. Thus, you might want to consider keeping it at a considerable and manageable size.
At a Garden
Baby showers are all about celebrating life, and there's no other place better to throw it at than a place teeming with life – a garden. A garden, or even a backyard, is an excellent choice for a baby shower. These areas are typically spacious enough to handle a considerable number of guests, as well as enough space for baby shower activities such as fun and games.
Backyard gardens can be very picturesque for baby showers, especially when you have access to a porch or a gazebo. Without any other structure, all you'd need to set up a garden baby shower are tables, chairs, and your chosen decorations.
If you want it to be even more special, you can throw your baby shower at a botanical garden if one is available. A botanical garden would be an incredibly beautiful venue with all the different flowers and plants found there. The scent of all the flowers wafting in the air will help set a peaceful and relaxing mood. The idea of celebrating a baby shower at a garden is even more special if the name of the baby is based on a flower, like Daisy, Hazel, Holly, Lily, Rose, and such.
However, it should be noted that flowers and plants are quite seasonal, which means it's a better option for spring and summer. Although, a nice baby shower at a garden during fall is also optional. As long as you and your guests are bundled up warm, the color of the autumn leaves will help make your baby shower an event to remember.
At a Beach
Baby showers are often seen as these cute and beautiful events, but no one said they can't be fun and loud too. One of the best places to celebrate a baby shower, especially during the summer, is at a beach.
Understandably, an event at the beach is not for everyone – thus, you have to make sure your guests are all excited and willing for such a party. This might mean that a beach baby shower would be better suited for friends close to your own age, instead of older family members such as grandpas and grandmas.
Themes are also quite limited for baby showers at the beach. The whole vibe of the beach is fun in the sun, which means you're probably not going to throw a formal baby shower here. However, it is highly recommended to lean into the beach vibe. Wear colorful and loose clothing, have a barbecue going, blast some music, eat some ice cream, and enjoy each other's company.
Don't forget to keep an eye out for the tide. You might want to put the umbrellas and the tables far enough so that you wouldn't have to worry about the water coming in. If you time your baby shower well enough, you might even end the party by watching the sunset with your closest loved ones.
At a Park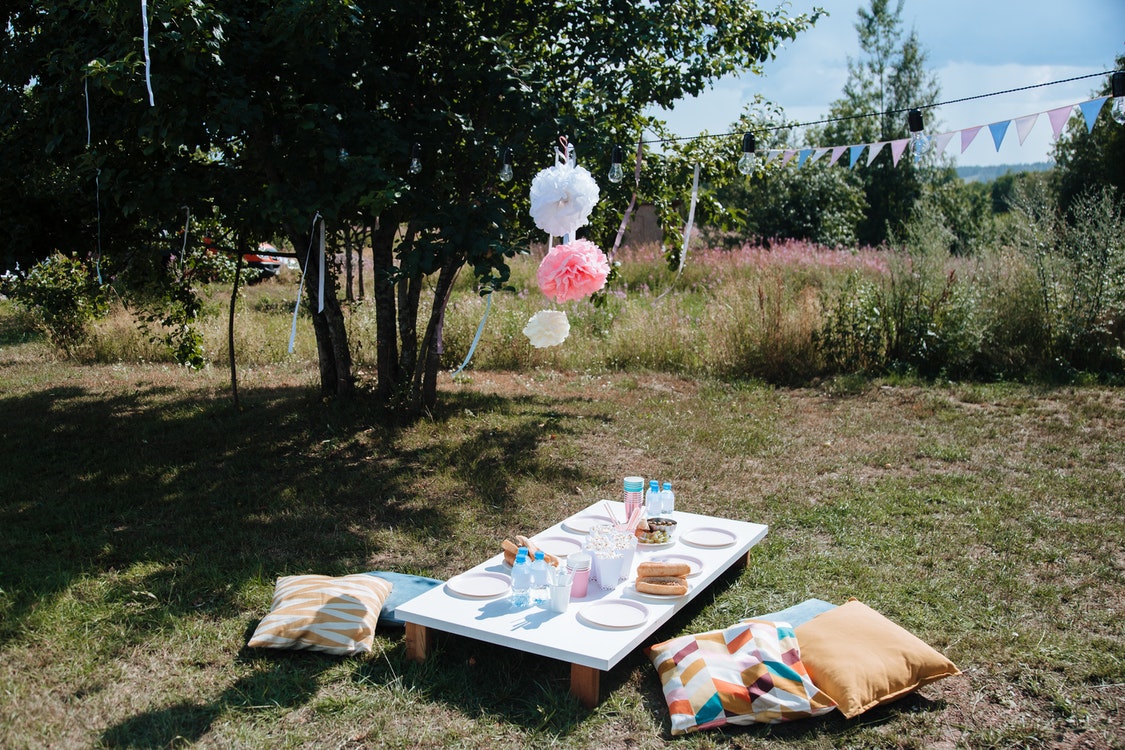 Another incredible option that won't break the bank is to throw your baby shower at the park. Having your party at the local park can be an incredibly cute idea. If your local park has tables and benches, you could use that. If tables and benches are unavailable, you can always bring blankets and enjoy yourselves on the soft grass.
The great thing about celebrating at the park is that you can totally have a picnic. Bring food and other party-related items in picnic baskets and enjoy the great outdoors with your friends and family. Children will especially enjoy celebrating at a park as they can go and have fun at the park playground.
Although it may not be the most private venue, parks can be breathtakingly beautiful with their trees, ponds, and other natural elements. It is important to remember to clean up after yourselves since the park is for everyone to enjoy, not just yourselves.
Lastly, if you plan on throwing your baby shower at a park, be sure to keep an eye out for the weather forecast. By monitoring the weather beforehand, you'll minimize the chances of it raining at your event.
At a Community Center
If you need a rather spacious venue at an affordable price, you might want to check out your local community center. If you're lucky, you can find one in the vicinity that has a space designated for special occasions. While some community centers rent out these spaces, some might even offer them up for free. You might have to reserve the space early as community centers are popular venues for all kinds of social activities.
Community centers are excellent choices for baby showers as these establishments are already typically equipped with tables and chairs for events. Make sure to coordinate with the people in charge as they can also tell you what other equipment the community center can lend you such as a sound system, a projector, and more. You might even be able to get the venue cleaned afterward for a nominal fee.
Since community centers can already provide most of what you'd need for your baby shower, all you'd need to bring would be the food and decorations.
One of the best things about celebrating an event at a community center is that even if you end up paying for the venue, you will be contributing to the community center itself. Thereby, supporting the local community and its activities.
At a Church Hall
Aside from being places of worship, some churches are actually built with large, spacious rooms meant for social events. While these rooms are typically used for religious events such as baptisms and weddings, they can also be rented out when available. While you can probably reserve a church hall for free, the church might ask for a little donation towards their parish.
Church halls are excellent choices, especially for those who are very religious. It can even be more meaningful if it's the church you go to for mass. They are also set up quite similar to community centers in the sense that church halls will already have chairs, tables, and such available on the premises. All you'd need would be to bring food and decorations for the party.
One thing to be mindful of is that church halls are religious venues. Thus, if you plan to celebrate your baby shower at a church hall, you will have to make sure the games and activities will remain appropriate for the venue. This also extends to the type of music you will play, as well as the language you and your guests will use.
On a Virtual Platform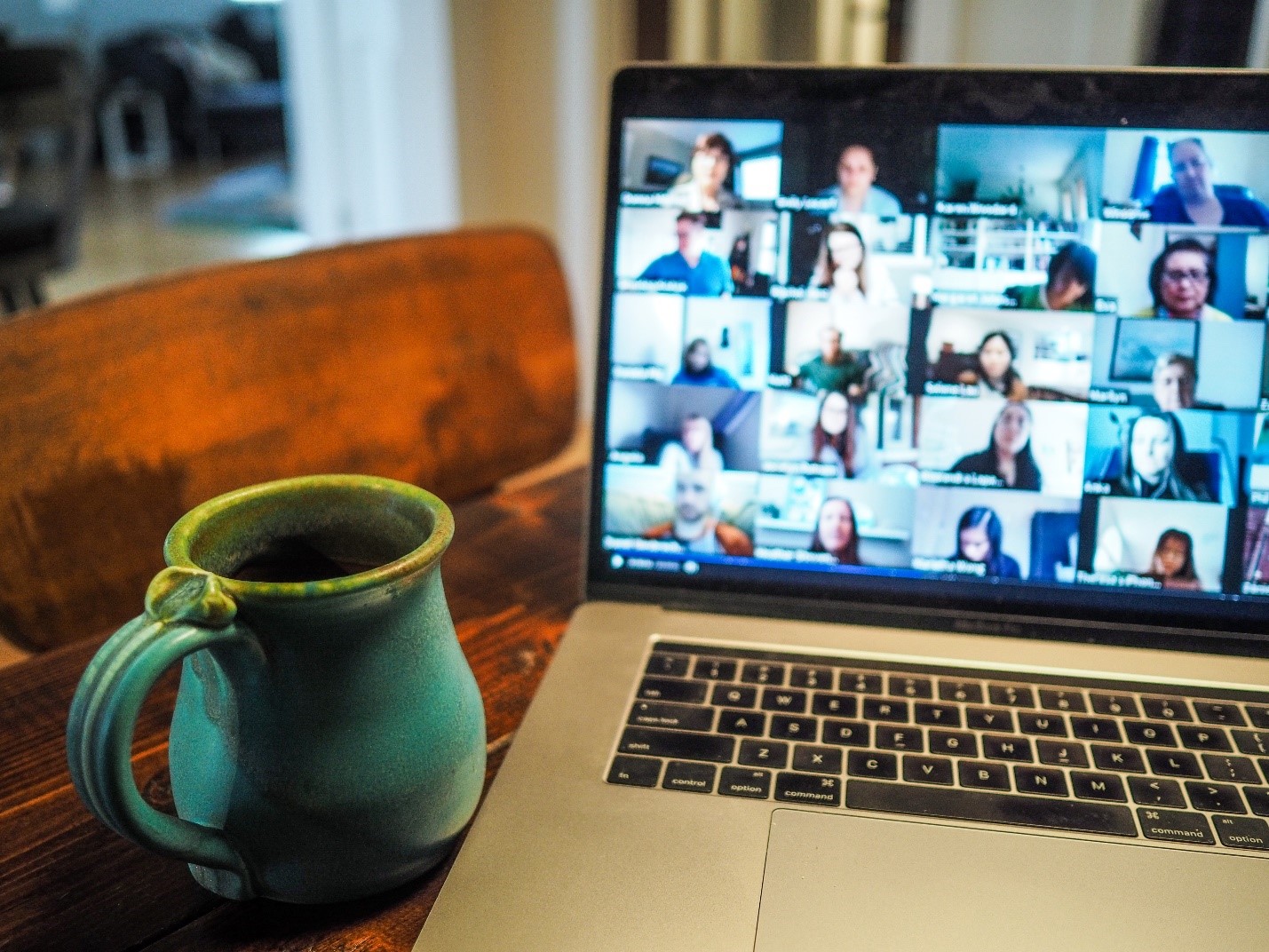 When no other physical venue is available, you can always opt to have a virtual baby shower instead. Of all the choices available, this one is probably the cheapest on the list. Having a virtual baby shower has become more and more popular these days due to the pandemic.
There are tons of virtual platforms that you can use for such an event. Any telecommunication app that has group call capabilities should suffice. Most people can simply group FaceTime, but other social media platforms can be used as well such as Facebook Messenger and WhatsApp. Popular messaging software also include Discord, Zoom, and Skype.
While it may not be the most ideal way to celebrate your baby shower, a virtual option is a great one since this option wasn't even available a few years back. With more and more people being accustomed to online events, a virtual baby shower is more than welcome these days.
The best thing about having a virtual baby shower is that your closest friends and family can attend regardless of where they are in the world as long as they have access to the internet. You can even get creative with games and activities with everything online. One thing some people do is to set up an online registry for the baby shower where the guests can simply order things online and have the gifts delivered straight to the celebrants' doorsteps.
By a Lake
It may highly depend on where you live, but if you live somewhere near a lake, you can consider throwing your baby shower there. Throwing a baby shower by a lake will be highly similar to throwing a party at a park. The scenery will be exquisite, but you might have to bring a lot of items.
The first thing to consider is whether the lakeside has tables and benches. Many lakes have tables and benches nearby for social activities, but if none are present, then you might want to bring them on your own. Just like at the park, you might also opt to simply bring a blanket a have a picnic with your guests.
Before heading over to the park on the day of the baby shower, it might be best to confirm the possibility of holding the event with the local authorities. Depending on the rules, some lakes might not be available for holding events while some lakes are. Rules are typically in place to protect the health of the lake and the local ecosystem.
Like for any party held out in the open, make sure to check the weather forecast before you schedule your big day. You might also have to be open to the idea that it won't be a private event the lakeside is a public area.
On a Rooftop
Having a house means having a lot of space and options for throwing a party. On the contrary, people living in apartment buildings may think they don't have enough space for events. However, there is an option for people living in apartment buildings that people living in the suburbs do not have: a rooftop terrace.
Rooftop terraces can be breathtakingly beautiful, especially when events there are held at night. With the cityscape painting the horizon, delicate lighting can drape across the terrace making for a magical scene.
Most apartment buildings should have some form of rooftop space. While some buildings may have a beautiful rooftop terrace, other buildings may have a less furnished rooftop. Regardless, celebrating a baby shower on a rooftop is very hip and modern by today's standards – perfect for a younger generation.
Depending on the amenities available on the rooftop, you might want to bring in some tables and chairs for the guests to sit in. You'd also have to decorate the space according to your theme as well.
Before anything, it might be best to coordinate with the building manager. Different buildings may have different systems so make sure to communicate with the people in charge.
At a Restaurant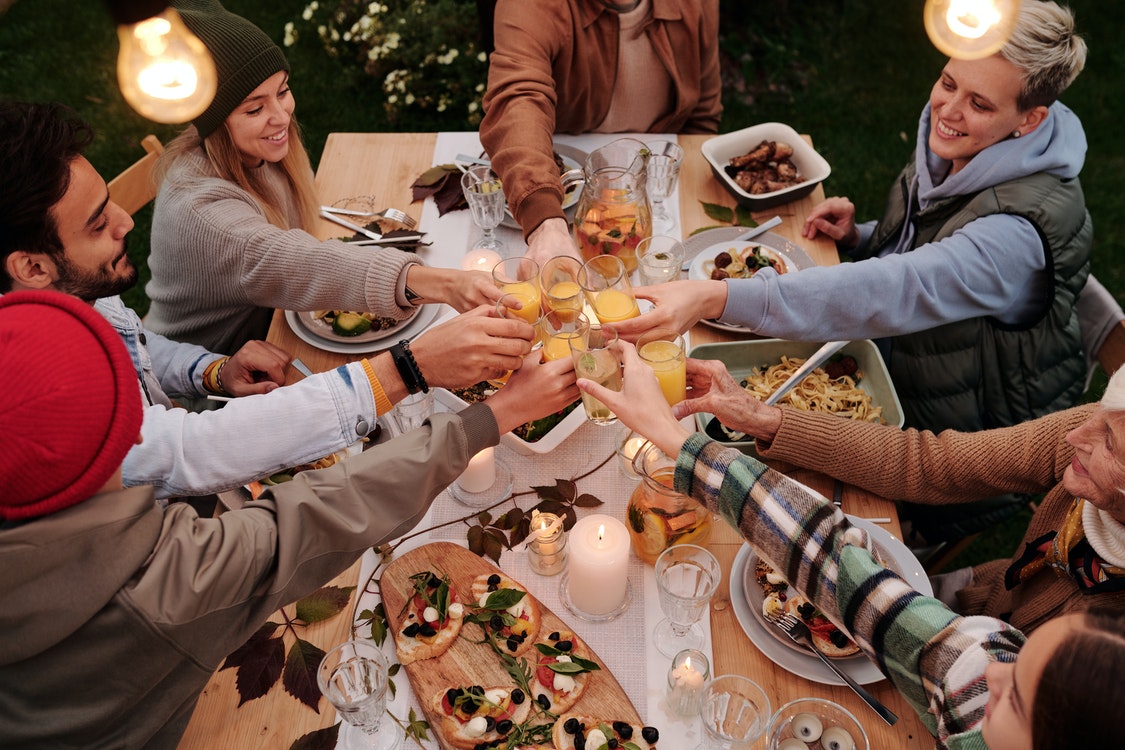 If you want to celebrate a baby shower but don't have the time to prepare much, then you may want to consider going to your favorite restaurant instead. For a small party, you won't even need to reserve a function room. You simply need to get a table.
Celebrating your baby shower at a restaurant is incredibly convenient as all you'd need to do is to invite your guests. You won't have to worry about tables, chairs, and food since the restaurant can provide all of those.
You can also ask the restaurant in advance if they have sets of food for groups of people or discounts for large parties. These can help cut down your budget in the long run. You don't even need to schedule the party during mealtime – you can simply have your baby shower in the afternoon for some tea, coffee, and cake.