Gender reveal parties can be a lot of fun, but it's tough to brainstorm unique ideas from scratch. You can't just treat this like any other celebration, since gender reveals are quite literally once-in-a-lifetime opportunities (per celebrant, we mean!).
Make the most of this when the opportunity presents itself – plan out something your guests will find exciting, engaging, memorable, and most of all enjoyable!
You can't go wrong bringing out a nice, smashable pinata for the big day! There are a ton of interesting party games that could be perfect to celebrate the occasion.
You could also hide the big reveal in your party's menu: cakes or other baked goods are common candidates for this, but there's been some success with color-changing mocktails. Lastly, you could also have mascots duke it out on your kid's special day!
There are a ton of funny gender reveal ideas to choose from – just waiting to be picked! These celebrations are rare, but always worth celebrating with cherished company.
Funny Gender Reveal Ideas
1. Pinata Smashing Surprise!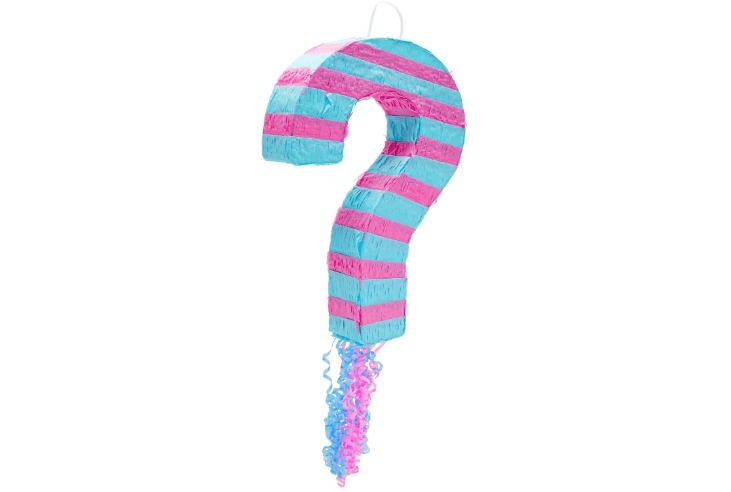 The addition of pinatas will enhance any party – regardless of the occasion being celebrated. It's just plain satisfying to crack open that paper mache mold in a couple of solid swings!
The nice thing is, pinatas are pretty easy to get ahold of on short notice!
Where can I Get Them?
You could make your own pinata from scratch using some scrap crafting materials, adhesive, and a bit of creativity. A simple pinata could take you as little as half an hour to make – and most of that time would just be spent waiting for the glue to dry!
Alternatively, you could just order a ready-made pinata for the celebration online! Gender reveal parties have been on the rise since the 2010s, reaching a point where a ton of pinata manufacturers actually produce designs specifically to cater to that trend!
Pinatas make for an awesome, fun gender reveal idea that all your guests will be sure to love! It doesn't matter how old they are – it's not something people outgrow!
2. Party Games
Hosting a gender reveal party can feel intimidating, but not everything has to be distinct or unique for the occasion. You'd be surprised at how many "normal" party game ideas you can reuse with just a few small tweaks!
You might be left scratching your head on how to even incorporate the "fun gender reveal" theme, but we promise it's a heck of a lot easier with options to choose from!
We've included a few tried-and-tested ideas here, but don't be afraid to make some tweaks of your own to better suit your celebration. Apply what you think would work best.
Ensure that whatever you have planned keeps the big question ("boy or girl?) in the back of their minds. And lastly, make sure that everyone will have a good time trying to figure it out!
Guessing Games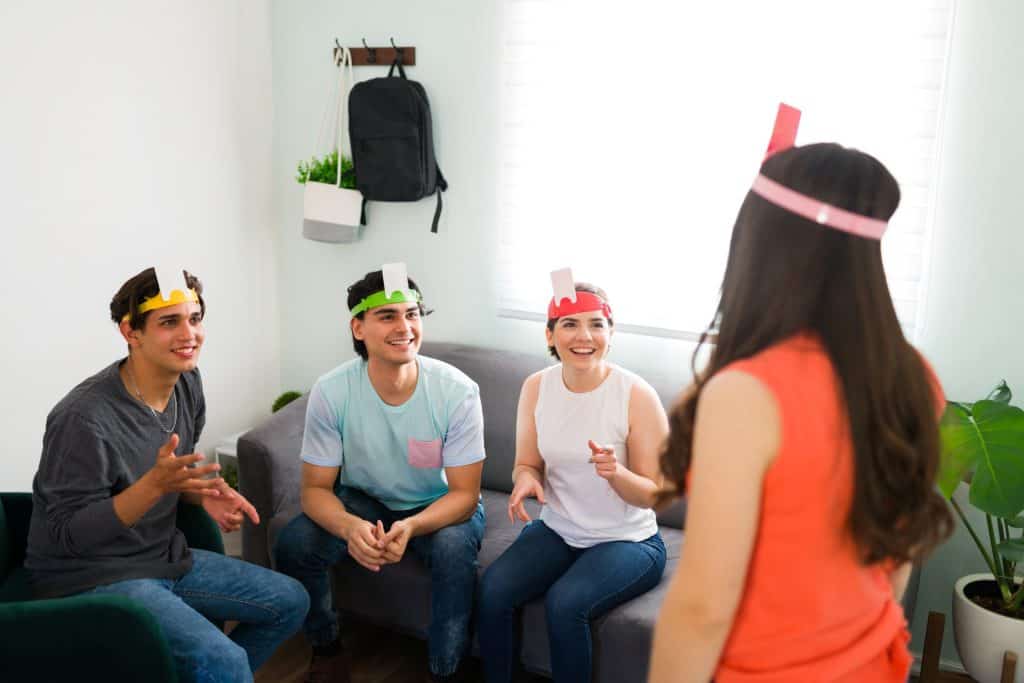 Guessing games might seem a little basic or even boring, but it's all about presentation. Your goal here isn't just to ask that question, but to draw people into finding that answer together!
You can't go wrong with pinning ribbons down on a corkboard! Blue ribbons for boys, pink ribbons for girls. Partition your board to have two sides, line your guests up, then let them take a stab (pun intended) at the big question.
You could swap the ribbons out for paint balloons too! In this case, it'll be less about the results and more about the satisfaction of chucking blue or pink paint and watching it dribble down the wall. Your guests are sure to enjoy the experience – but to minimize cleanup, get washable paint!
Do remember that just because it's the big question doesn't mean it has to be the only question. Have them take guesses about other things too – the kid's potential name, for starters!
Set aside a couple of jars or boxes, depending on what you have available. Separate them by gender in whatever way you'd prefer. Have your guests write down what they think your baby's name might be, then finally wrap it all up by reading the winning container's guesses out loud.
You could also do the same game with other topics – say, the kid's toys (dolls or action figures?), their future hobbies, or even the type of food they'd love.
Not everything has to be about their gender, but make sure that all your game's themes relate to your little one in some relevant way. As a small aside, the above option also doubles as an amazing setup for a twin baby reveal!
Draw/Build something for the Baby
This option is a refreshing alternative to all of those guessing games, letting your guests try their hand at creative endeavors. It's usually on the pricier side – you'll be supplying guests with the materials for this, after all – but it comes with some perks that are well worth mentioning.
First off, this game is bound to distract any kids brought along for the occasion. That sort of peace of mind is priceless! Secondly, the results of this could be funny: your strait-laced friend sheepishly handing in a haphazard doodle would be charming and hilarious in equal measure. Lastly, you might also get some wonderful art through this!
Note that the second and third options aren't mutually exclusive. Any art that makes you laugh belongs in your child's room – maybe even by their crib.
You could also try making a banner for their room, then have every one of your guests chip in with art, messages, and other contributions of their choosing. It'd be a nice, fun token to welcome your little one into the world.
3. Colored Cakes (Hidden Under Layers of Frosting!)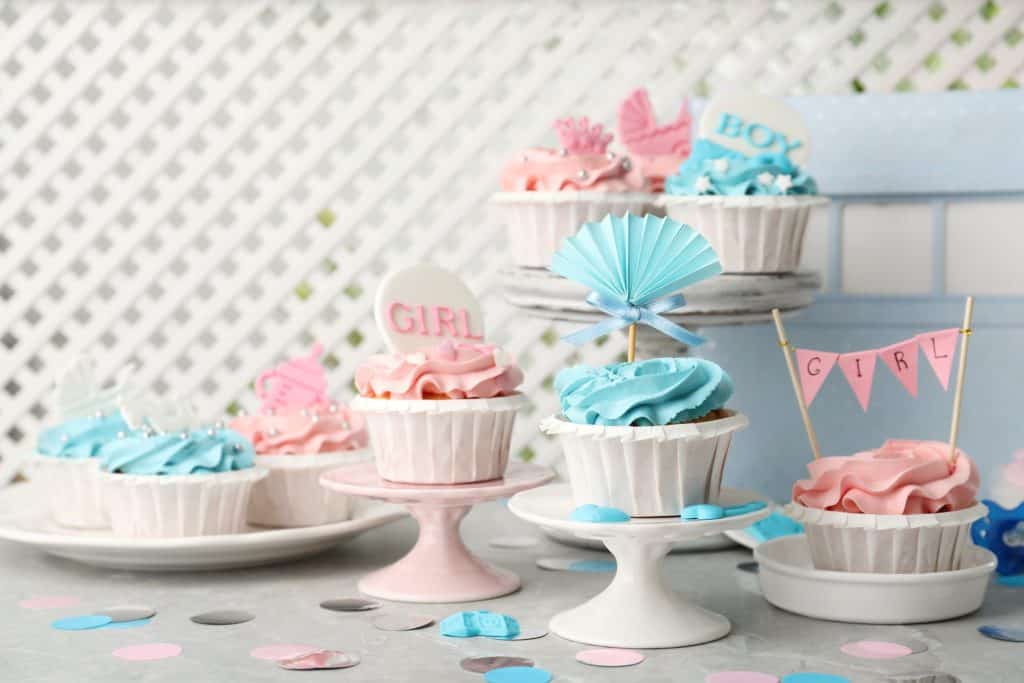 A lot of gender reveal parties choose to break the big news through food. They tend to do this by coloring the inside of whatever they had in mind – usually a cake or cupcakes – then layering the surprise under a generous helping of frosting or buttercream.
Cakes are nice because they let you control when the surprise comes out. Cupcakes are pretty popular, but all it takes is one antsy guest getting ahead of themselves to spoil the big reveal!
You could also arrange a fake out here. Instead of boyish blue or girlish pink, fill the inside with some other weird color to throw them off!
While they're still reeling – trying to figure out what gender green stands for – blast them down with (blue or pink) slime or silly string! Alternatively, you could squeeze in one last party game to reveal the secret. Dealer's choice here, but we're partial to the former idea ourselves!
4. Gender Reveal Mocktails!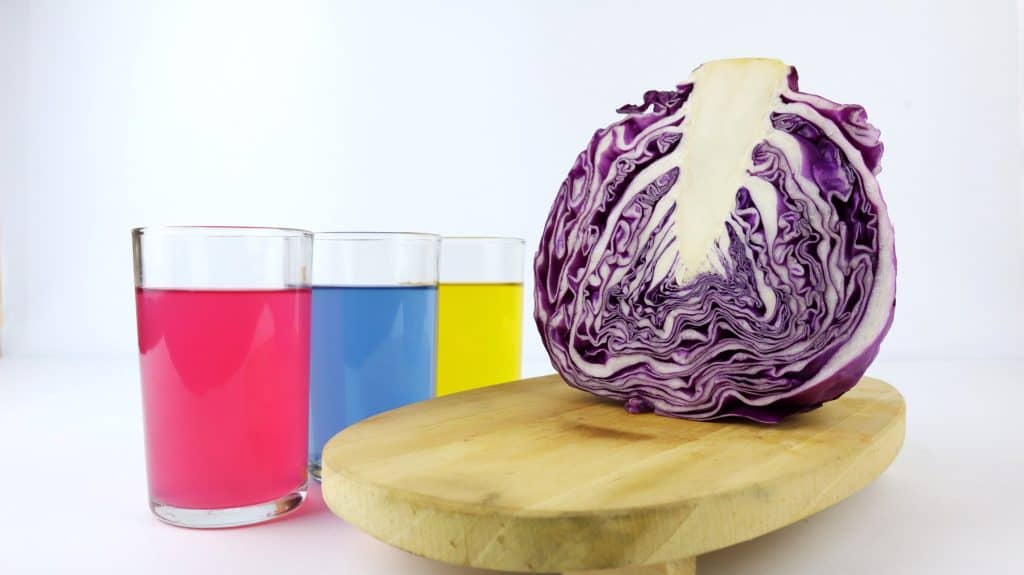 All the other options are tried, true, and tested, but this method is our personal favorite! Let your guests for the gender reveal have a fun time mixing drinks, then have the magical color-changing mocktail fill them in on the big surprise!
There's a neat compound in nature called anthocyanin – it functions as an acid-base indicator, changing color depending on pH levels. Specifically, it can turn pink or blue!
It's found in a lot of different fruits and veggies, but for convenience's sake, your best bet would either be butterfly pea tea or red cabbage extract. These two are easy to find and don't have overpowering flavors, giving you better control of the final drink's taste.
Adding lemon juice or other acidic substances (i.e. hibiscus) would turn the mocktail a deep, reddish pink. Adding warm water would lower the pH, turning the acidic mix a simple blue.
Have each guest (or table) set up with a rudimentary mocktail kit, then have the final ingredient added last. A bit of quirky, engaging science might be perfect for a fun gender reveal surprise!
They might guess what you're trying to do and figure out the baby's gender from the initial mix's color, but you could trick their expectations by having them add something that won't alter the mocktail's pH – leaving the color unchanged and your guests scratching their heads!
Color-changing mocktails are a fun, novel gender reveal idea, but it's also one that requires thorough preparation, testing, and timing. If all goes well though, your guests will have a full, sparkling glass and news worthy of a good toast!
5. Have Mascots Duke It Out (Safely!)
It's nice to hold a party where everything is nice, clean, and photogenic, but sometimes it's worth cutting loose and getting a bit experimental – do something a little crazy fun for your child's gender reveal party! Here's where the mascots come in for a few rounds!
Organizing this might be difficult – since it depends on availability, circumstances, and how far you're willing to go past "normal" – but watch the video above and try to convince yourself it wouldn't be worth the effort! If you can find a way to make this happen, by all means, go for it!
Other Funny Gender Reveal Ideas (Use Blue/Pink Colors)
Scratch-off cards
"Pop the balloon" (inside the balloon, use pink or blue confetti)
"Cut the cake" (inside the cake, use pink or blue food coloring)
"Open the box" (inside the box, have pink or blue items)
"Guess the gender" game (have guests write down their guess and put it in a jar)
Confetti cannon
Smoke bomb
Fireworks
Sparklers
Bubble machine
Chalk art
Graffiti wall
Cookies
Cupcakes
Donuts
Ice cream
Cotton candy
Jelly beans
Lollipops
Party favors
Decorations
Clothing
A Word of Warning
Gender reveal parties are fun milestones to celebrate with friends and family, but there's been a lot of controversy with the trend given multiple instances of property damage, personal injury, or even deaths that developed from ill-conceived celebrations.
We've curated our list above to minimize both personal inconvenience and danger. You want your gender reveal party to be fun and enjoyable, and you don't want to risk it becoming memorable for the wrong reasons. Steer clear of spectacles like fireworks, animals, confetti cannons, etc.
Smoke machines in particular have been the cause of multiple incidents – including one tragic wildfire in California that burned down 20,000 acres of forest and killed one firefighter.
You want to have fun gender reveal ideas planned out – you don't want this big day to be memorable for all the wrong reasons!
The list above has options that are safe and relatively simple to manage – the worst thing that could happen here would be a few bored guests or someone's mocktail not popping with the ride shade of color.
Final Thoughts
There are a lot of ways to have fun with the gender reveal surprise party. You don't have to settle on just one idea – so mix, match, and modify things to your heart's content.
Most importantly, don't forget to have fun – while the celebration is for the baby, the expectant parents deserve to enjoy it too!