After giving birth, you might not be up to thinking about what kind of clothes look good on your body. You'll probably be focused more on caring for yourself and the baby than dressing in style. However, there are some clothing options that will help make it easier -and less painful- for you to get dressed after a c-section.
What to wear after a cesarean section? During the day, loose-fitting tops and bottoms such as dresses, leggings, and sweatpants are highly recommended. For sleeping, comfortable nightgowns and pajamas should also be considered. A belly band can also be added for additional support around the abdomen.
10 Things to Wear After a C-Section
Postpartum Panties
Postpartum panties will be an essential part of your wardrobe if you're planning to recover at home. It's much easier than tugging on regular underwear. You can find them in different styles and cuts that fit your body perfectly after a c-section. There are low-rise options for women who never want their stitches exposed as well as full coverage panties for women who want to cover up their post-surgery scar.
In addition to the comfort, the compression that these postpartum panties provide also aid in reducing swelling and supporting weakened muscles.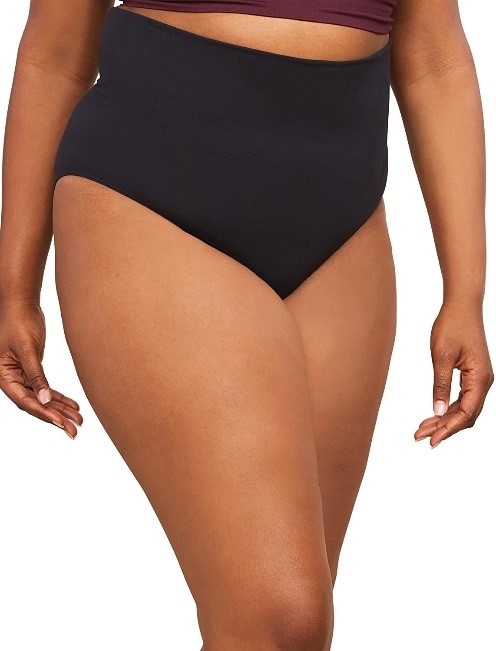 Leggings
Leggings are a staple in every woman's wardrobe – and for good reason. They can be casual or dressed up, depending on the occasion. Fabric leggings have just enough stretch to them that they're comfortable without being too constricting around your abdomen. If you want something with more support, then opt for compression pants designed specifically after a c-section.
Sweatpants
Sweatpants and yoga pants are perfectly acceptable when you're recovering at home. You've just given birth, so feel free to dress down. A pair of comfy sweats is essential for postpartum recovery – especially if your stitches are showing. Look for a pair that has some elasticity in them and won't be too tight.
Robes
Robes are a gift from the heavens for women who've had c-sections. They're so comfortable and easy to slip on in between diaper changes or when you have visitors at your house. There's no need to worry about buttons, zippers, laces, or anything that might be uncomfortable around your incision site either.
Dresses
Dresses with elastic waistbands are the perfect option for those planning to go out of the house during the postpartum recovery period. They'll provide support around your abdomen without being too tight or restrictive on your stitches. You can find all types of fabrics and styles when it comes to dressing after a c-section – from casual maxi dresses that are perfect for summer days to dressier options for special events.

Cardigans & Button-Up Shirts
Don't forget about layering! A cardigan over top of any shirt is always an option if you want something easy that's still cute enough to wear in public. Button-up shirts are another great option because they have few buttons at the neckline, so nothing will rub against where your incision is. Again, find a fabric that isn't too thin and will still provide support around your abdomen.
If you're not up for anything complicated, then just wear whatever makes you feel good. There's no need to worry about what other people think or say since it's all about how comfortable you are. Plus, there might be visitors at the house, and throwing on a cardigan or a button-up shirt is a quick and easy way to get dressed up.
Nightgowns
Wearing nightgowns is another great option for women who are recovering at home. It's easy to wear and take off, so you won't have to worry about anything complicated or tight. You can find all types of nightgowns – from short, cotton gowns that will be cool during the summer months to long-sleeve gowns for winter.
Choose a gown that won't be constricting around your stitches and provides full coverage of the incision site as well as post-surgery scarring if you want to cover it up or wear loose-fitting clothing at home. It's also best to opt for cotton nightgowns because they'll keep you cool throughout the entire night.
Pajamas
Pajamas are always a great option – whether you want to wear them at home or outside of the house. Look for lounge pants and loose pajama tops that won't be too tight around your abdomen but will still provide support, so everything feels comfortable as it heals.
If you're looking for something more dressed up, then opt for velour jammies. They're perfect for lounging around the house and will keep you warm when it's cold outside – plus, they can be dressed up with a blazer or cardigan if someone comes over to visit in the evening.
Loose-Fitting T-Shirts
T-shirts are a great option for women recovering at home because they're comfortable and easy to wear without worrying about anything too complicated or tight. Opt for looser-fitting shirts that aren't right up against your body – especially if you want something more breathable around the abdomen area where stitches are.
Belly Bands
Belly bands are another great option for women recovering at home because they provide support around the abdomen without being too tight or constricting. They're also helpful if you don't want to wear anything loose-fitting, but your stomach is still tender and sensitive from childbirth. The best part? Belly bands come in all different fabric types, colors, and styles.
Factors to Consider When Choosing What to Wear After a C-Section
Breathability
If you want to wear something loose and comfortable, then look for breathable clothing that won't irritate the skin around your abdomen but will still provide support. You can also opt for cotton or other types of natural fabrics like silk instead of synthetic materials such as polyester, which makes it harder for air to circulate through the material.
Compression and Support
When choosing clothing after a c-section, make sure it provides support around the abdomen without being too tight or restrictive. You can opt for anything from belly bands to maternity pants which help keep everything in place and provide compression as you heal but won't be too uncomfortable during your recovery period.
Access for Breastfeeding
One of the most important things to think about when you're choosing what to wear after a c-section is whether or not it'll be easy for you to take care of your baby once they arrive. For example, opt for something that's easy to lift up and down without having to wiggle around too much because breastfeeding will already require enough effort on your part.
Ease to Wear and Remove
Finally, it's important to choose clothing that is easy to put on and take off – especially if you're planning on wearing something at night. Opt for loose-fitting pants or skirts along with a shirt that can easily be lifted up and won't require too much effort when your stomach is still healing from surgery, so you don't need to worry about anything too complicated like buttons, zippers, and the like.
Wear whatever makes you feel good during your recovery period – whether that's loose-fitting clothes or something simple like a hospital gown.
The most important thing is to wear what makes you comfortable and doesn't irritate the stomach area, especially if stitches are still in place around the incision site. If it feels too tight, then opt for looser clothing until your stomach starts to feel better and heals.