Novel baby gear can make the biggest difference, especially for new parents, and no other piece of equipment has been as recently praised as the DockATot. However, DockATots can get pretty expensive. Fortunately, there are cheaper alternatives out there you can consider that are practically just as good.
There are several DockATot alternatives that parents can consider for their babies. Aside from being cheaper alternatives, other options offer certain features that can make them better depending on what your needs are.
Coming from different companies, parents' options include the Snuggle Me Organic Infant Lounger, Bluebird Baby Lounger, Rahoo Learn and Lounge, Finn + Emma Oval Lounge Mat, LoLueMade CuddleNest, Baby Delight Snuggle Nest, Leachco Podster, and Lulyboo Lounge To-Go.
This article will list several DockATot alternatives that are just as good without having to break the bank. Hopefully, the list can help you decide on the best alternative for your baby.
Dock-A-Tot Alternatives
Snuggle Me Organic Infant Lounger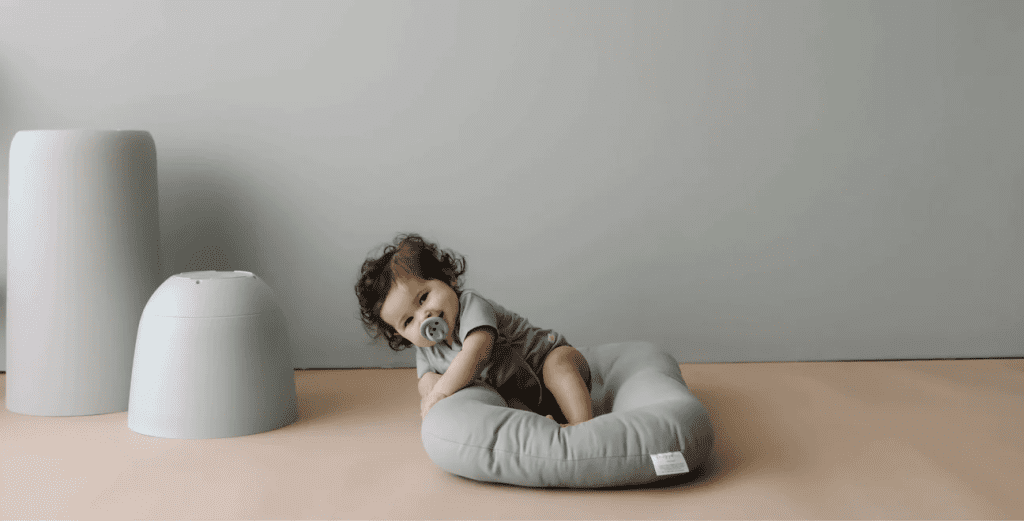 As much as people have been raving about DockATots, there are probably as many supporters of the Infant Lounger by Snuggle Me. Award-winning with over 4000 5-star reviews, the Infant Lounger is a perfect accessory for when parents need an extra set of hands.
Aside from the lower price point, the Infant Lounger will seem to last longer as it can accommodate babies up to nine months. On the other hand, the DockATot Deluxe is rated for up to eight months.
Perhaps the highest selling point of the brand is that their products are completely made of organic cotton. They also mention in their FAQ that their filling contents are free from chemicals and flame retardants.
With safety being a top priority for Snuggle Me, parents should take comfort in the fact that Snuggle Me has not had any incident reported in over 13 years. They also explicitly mention that their Infant Loungers are recommended for supervised use only.
One of the favorite things people love about the Snuggle Me Organic Infant Lounger is how many available colors they have. Parents enjoy having more options, especially those who want to get something that matches their nursery décor.
Available colors include Birch, Natural, Slate, Moss, Gingerbread, Gumdrop, and Sparrow. They also offer limited-edition options like Quilted Fawn, Quilted Linen, Quilted Fog, Quilted Dahlia, Quilted Buttercream, Flora, Goldie, Lilac, and Oat.
Care for the Snuggle Me Organic Infant Lounger can be easier with covers. Not only can covers make it easier to keep the Infant Lounger clean, but they also give parents additional choices when it comes to colors, patterns, and designs.
Aside from the designs that the Infant Loungers have, Snuggle Me also offers additional cover designs such as Honey, Stone, Milk, Sable Gauze, Natural Waffle, Ash Waffle, Primrose Waffle, Shore Waffle, Natural Gauze, Ash Gauze, Primrose Gauze, Shore Gauze, Natural Knit, and Ash Knit.
Bluebird Baby Lounger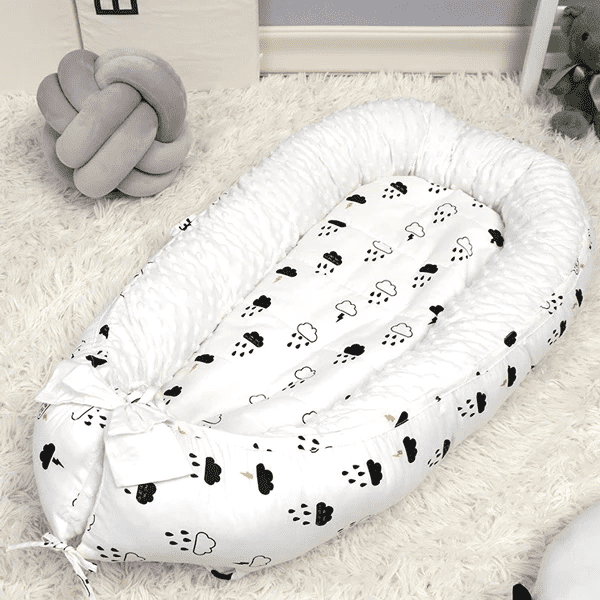 In recent years, Bluebird Baby has been the go-to for many parents for all their baby needs. The brand offers a wide array of products such as diaper bags, carriers, pillows, stroller bags, and such. But importantly, they also offer loungers to rival the DockATot.
Specifically, Bluebird Baby offers a few baby loungers that can serve as effective, and affordable, DockATot alternatives. These Bluebird Baby alternatives include the Baby Snuggle Nest, the Portable Baby Lounger, and the Summer All in One Baby Lounger.
For the most part, it seems like the big difference between the different kinds of loungers that BlueBird Baby offers is the aesthetic design. Structurally, they all resemble one another as they are multipartite pieces of equipment characterized by a flat pad surface with a long bumper (or fence) that goes around.
While Bluebird Baby uses cotton, polyester, and nylon for their products, the brand reports that all materials they use are certified hypoallergenic, breathable, and non-toxic.
Aside from the different designs that each product comes in, each product also has their own subset of designs. For example, you can get the Summer All in One Baby Lounger in Zoo, Fox, Rainbow, Leaves, Crown (Blue), Arrow (Gray), Arrow (White), Stars (Black), and Stars (Green).
Bluebird Baby Loungers are relatively convenient to care for as they come with covers that can be easily removed and thrown in the washing machine.
Unlike the DockATot which specifies its use cases for supervised lounging and playtime, Bluebird Baby Loungers can be used for sleeping. Aside from being used as a crib accessory, parents can also use Bluebird Baby Loungers for co-sleeping. Furthermore, the Baby Loungers are typically rated for up to 24 months.
Rahoo Learn and Lounge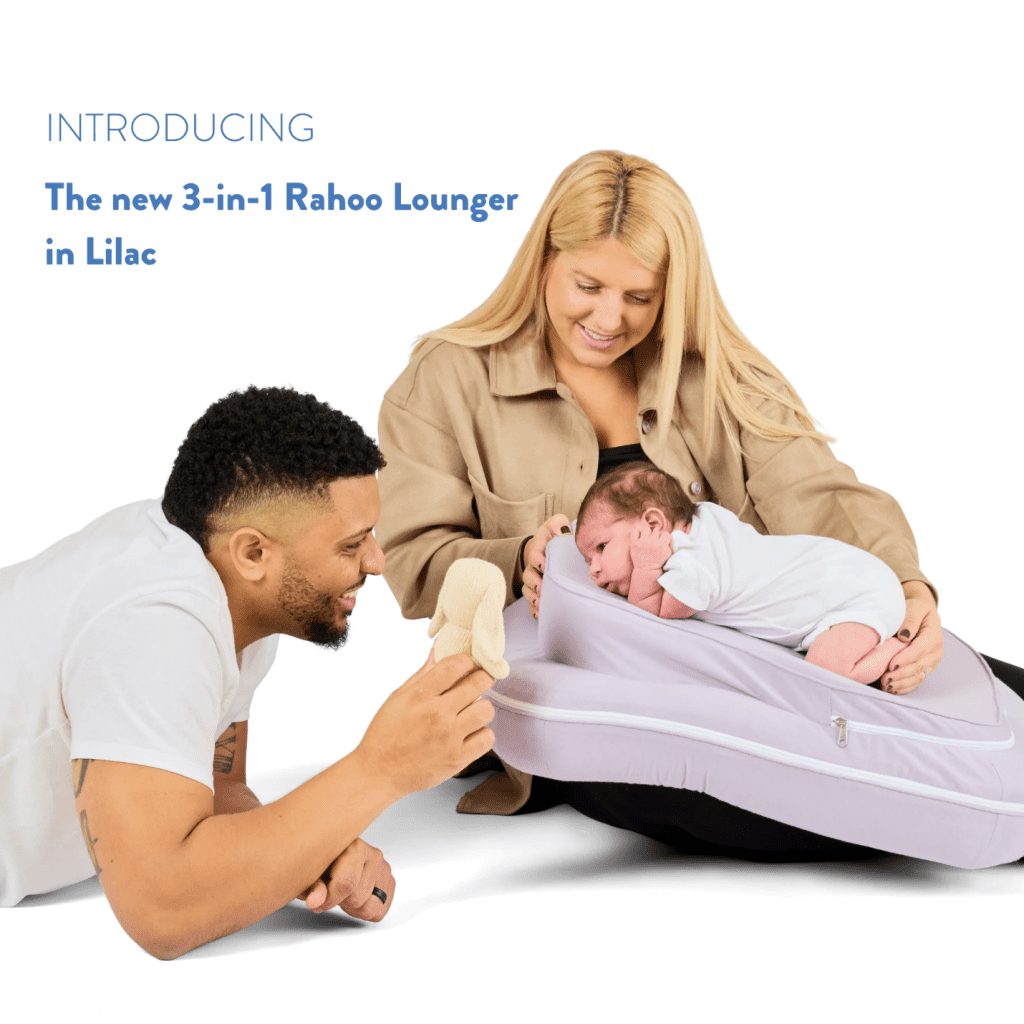 For those interested in looking beyond the DockATot, Rahoo provides an excellent alternative. Raising almost $15,000 on Kickstarter, the brand offers their own lounger: the Learn and Lounge.
Developed by pediatric therapists, the Learn and Lounge underwent years of research and development to produce an extremely versatile lounger. It is also incredibly safe as it has gone through the highest CPSC safety testing measures and all JPMA compliance recommendations.
Rahoo specifically states that the Learn and Lounge is a 3-in-1 as it can be used as an awake-time lounger, a feeding positioner, and a tummy time trainer.
Upon first glance, the Learn and Lounge appears like any other lounger. It is made of memory foam for comfort and stability, with a bamboo cotton exterior cover that can be easily removed and machine-washed.
Perhaps the biggest difference the Learn and Lounge has to other loungers is that it comes with the slightest incline, one that is less than 10 degrees. Although the difference may be minimal, it is a big enough difference to set it apart from other loungers.
The slight incline provides enough support for the baby for reducing baby reflux both during and after feeding time. Plenty of testimonies from parents attest to the effectiveness of the Learn and Lounge, making it more than worth its price.
Like the DockATot, the Learn and Lounge is also not recommended for sleeping. One thing to take note of is that while the DockATot Deluxe is rated for up to eight months, the Learn and Lounge is only rated for up to six months.
Currently, Rahoo provides two Learn and Lounge products: the Learn and Lounge Original and the Learn and Lounge. Coming in at the same price point, the main difference seems to be the colors they come in.
The Learn and Lounge Original only comes in Fresh Mint and Modern Memphis while the Learn and Lounge comes in Blue Fog, Lilac, Aloe, and Space Gray. Needless to say, the colors that the Learn and Lounge comes in will easily feel at home in any modern nursery.
Finn + Emma Oval Lounge Mat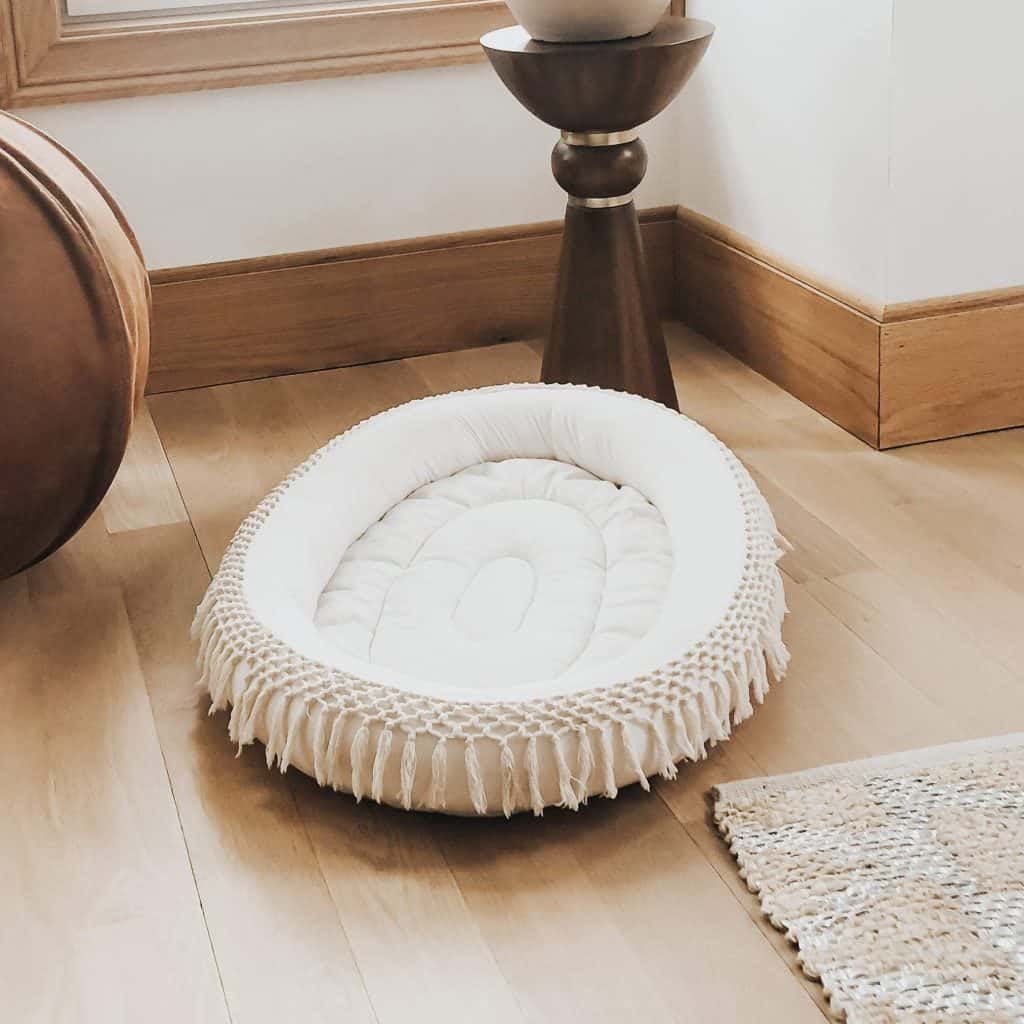 Oftentimes, parents want to look for DockATot alternatives that are really out-of-the-box – pieces that can really make a statement inside their nursery. For those in the market for a baby lounger, that very alternative would be the Oval Lounge Mat by Finn + Emma.
If any baby lounger can have a strong first impression, it would be the Oval Lounge Mat by Finn + Emma. Unlike other baby loungers, it is clear from a glance that the aesthetics of the Oval Lounge Mat was a priority in its development.
While other baby loungers offer a wide range of color options, the Oval Lounge Mat comes in a single confident option. With a white to off-white surface and beige exterior, the Oval Lounge Mat comes with a removable, machine-washable cover that will surely make its care easy and convenient.
Finn + Emma themselves describe the Oval Lounge Mat as boho-chic. Made of organic cotton, this oval-shaped lounger is characterized by macramé fringes. Finn + Emma states that the lounger is more than suitable for newborns up to nine months.
Like the DockATot, the Oval Lounge Mat is specifically designed for supervised lounging, playing, feeding, and even changing diapers.
For added versatility, Finn + Emma designed the Oval Lounge Mat to be perfectly compatible with their other products. For example, they also offer a Play Gym that dangles macramé toys for texture and tactile play right above the baby as it straddles directly over the Oval Lounge Mat.
LoLueMade CuddleNest

For a relatively direct option, a great DockATot alternative would be the CuddleNest by The LoLueMade Company.
Just like the DockATot, The LoLueMade Company offers two CuddleNest size variants: the CuddleNest Mini and the CuddleNest Mighty. The DockATot versions would be the Deluxe+ Dock and the Grand Dock. The smaller versions are both for up to eight months while the bigger versions are for beyond nine months.
Like the other loungers on this list, the CuddleNest comes in a variety of colors for parents to choose from. These include the Harbor Mist, Dream, Willow, Haven, Fairy Tale Blue, Lullaby Gray, Pink Lemonade, Flora, Fiesta, and Cozy Cloud.
For convenient care, the CuddleNest makes it easy for parents to simply remove its breathable cotton cover and machine-wash. With safety as a priority, parents should take comfort that The LoLueMade Company does not use harmful substances and makes sure all materials used are hypoallergenic.
Baby Delight Snuggle Nest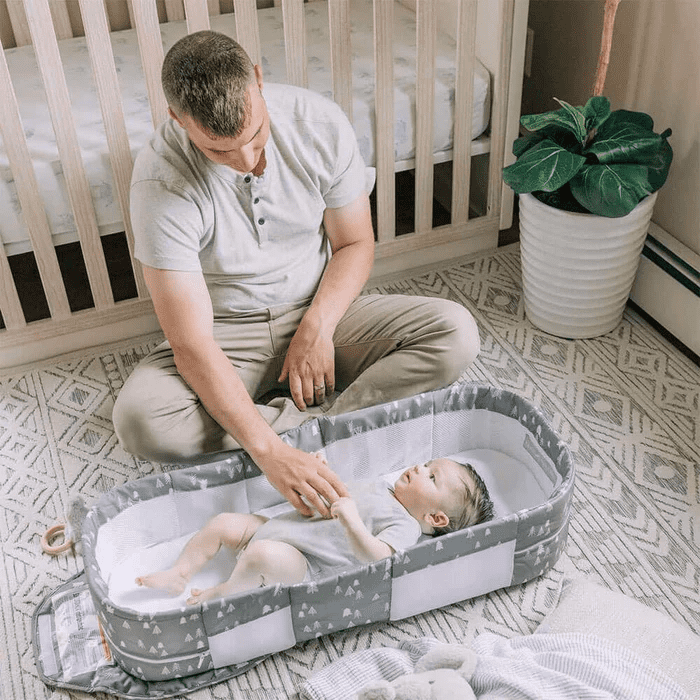 A lot of baby loungers have some form of handle or grip that makes them easy to move from one area of the house to another, but perhaps the Snuggle Nest by Baby Delight is the most convenient DockATot alternative with portability in mind.
Structurally, the Snuggle Nest immediately looks different from the usual baby lounger. Unlike most other baby loungers that essentially feel like a pillow with a divot in the middle, the Snuggle Nest almost looks like a bassinet.
With a mattress pad as its bottom, the Snuggle Nest is enclosed with breathable, vented walls. The Snuggle Nest comes in four different design options: Trees, Organic Oat, Grey Scribbles, and Skies. It also comes with a removable cover that is machine washable.
Perhaps the biggest feature of the Snuggle Nest is portability. The Snuggle Nest is designed in a way that it can be easily folded into a compact package. Not only does this folding ability make the Snuggle Nest incredibly easy to move around, but it also helps make it easy to store in smaller spaces.
Leachco Podster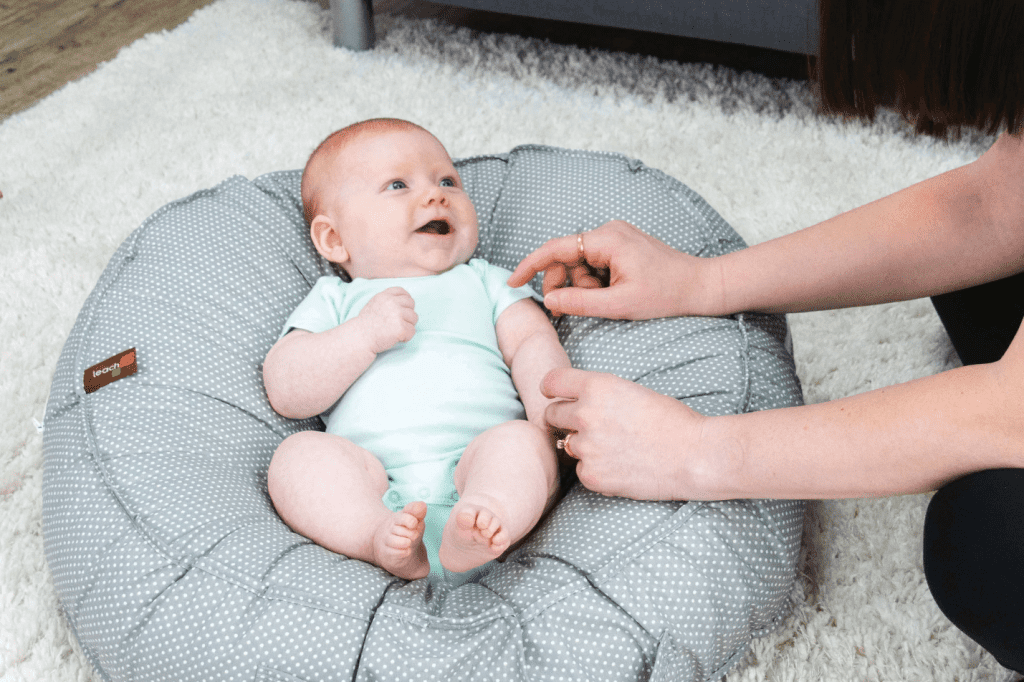 Baby loungers have been becoming more and more popular as more parents realize how much help they can be. The best thing about baby loungers is that they can be as effective with minimal design. One such simple DockATot alternative is the Podster by Leachco.
The Podster features a basic round cushion shape with a recess in the middle that holds the baby in place. Leachco calls this a sling center, and the company claims that it actually expands with the infant's weight. Not only does this improve fit, but it also helps with comfort.
Like most baby loungers on this list, the Podster also comes with removable covers that can easily be cleaned and taken care of. It also comes in a variety of designs parents can choose from. The Podster also comes in plush fabric.
Like the Learn and Lounge, the Podster also features an incline for upper body elevation. A slight incline is said to help in digestion and breathing, resulting in a more comfortable baby.
Lulyboo Lounge To-Go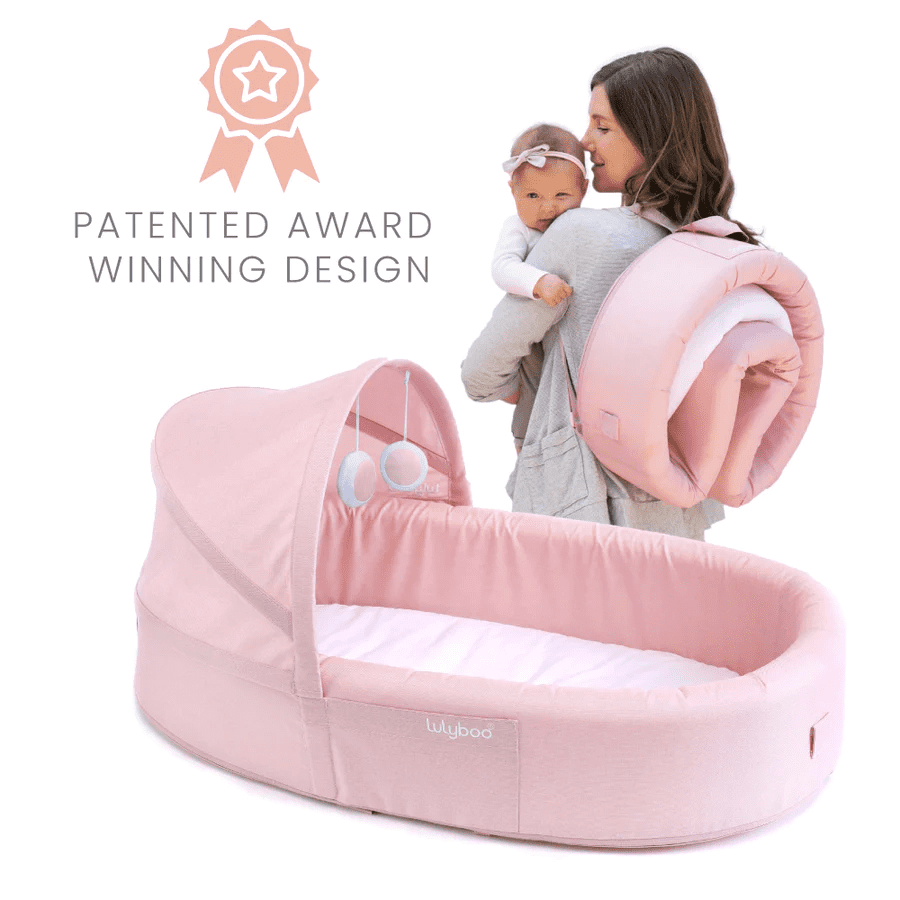 The last entry on this list is one that just might be the one you need. A lot of baby loungers have to set themselves apart from one another in this ever-saturating market. However, one unique baby lounger to consider is the Lounge To-Go by Lulyboo.
Coming in Blush, Denim, Oat, Metro, and Bubble color options, the Lounge To-Go is structurally designed to resemble a bassinet more than the typical baby lounger. It features a flat mattress surface enclosed by a wall. It even comes with a canopy that makes this lounge perfect for the outdoors as well.
The main appeal of the Lounge To-Go is that it can quickly be transformed into a backpack for easy portability. The Lounge To-Go is specifically made with lightweight but sturdy materials to make it easy to carry around.