When preparing for the arrival of a new baby, there are all sorts of logistical considerations you will need to make, furniture included. A Pack N Play, which bears a similar appearance and design to a standard crib, is often advertised as an all-in-one changing table, sleeping area, playpen, and storage space, making it a very appealing baby furniture option.
That said, can a baby sleep in the bottom of a Pack N Play? Is it safe for them?
The bottom level of a Pack N Play is suitable for sleep, provided it follows the safe sleep guidelines set up by the American Academy of Pediatrics. It should also meet the standards set by the U.S. Consumer Product Safety Commission or that of an equivalent product certification authority.
Pack N Plays are great to have around, whether you have a newborn baby or a toddler. Maximizing your use of a Pack N Play also means ensuring that you use your Pack N Play safely. It only takes a few steps and a few extra precautions to have your Pack N Play safe and ready for your baby's use.
What is a Pack N Play?
A Pack N Play, sometimes referred to as a Play Yard, is a type of baby furniture that is designed to be multi-functional and easily portable. Pack N Plays come with attachments that allow it to function as a diaper changing station, a bouncer, and of course, a bassinet and crib.
Pack N Plays are often preferred by parents as their design makes them suitable for newborns and toddlers alike. They are lightweight and easy to break down and set up, making them ideal for travel or even just moving to different rooms around the house.
4 Factors to Know About Sleeping in a Pack N Play
Height and Weight
A Pack N Play usually has an overall weight limit of 30 pounds, which most children reach by the time they are 2 or 3 years old.
Some Pack N Plays do not have weight limits at all and instead rely on a height limit of around 35 inches. You will have to stop using the Pack N Play once your child is tall enough to climb over the wall or tip the Pack N Play over.
If your Pack N Play comes with both a height and a weight limit, you will have to discontinue using it once your child reaches either limit, whichever comes first.
Pack N Play attachments do not carry the same weight limit as the bottom level. Bassinet, changing table, and seat attachments and inserts usually come with a weight limit between 15 and 20 pounds. It is only the main frame of the Pack N Play that has a weight limit of 30 pounds.
These limits are usually printed on the user manual that comes with the device. Otherwise, they can easily be found on the manufacturer's website by looking up the Pack N Play's model name + manual.
Motor Development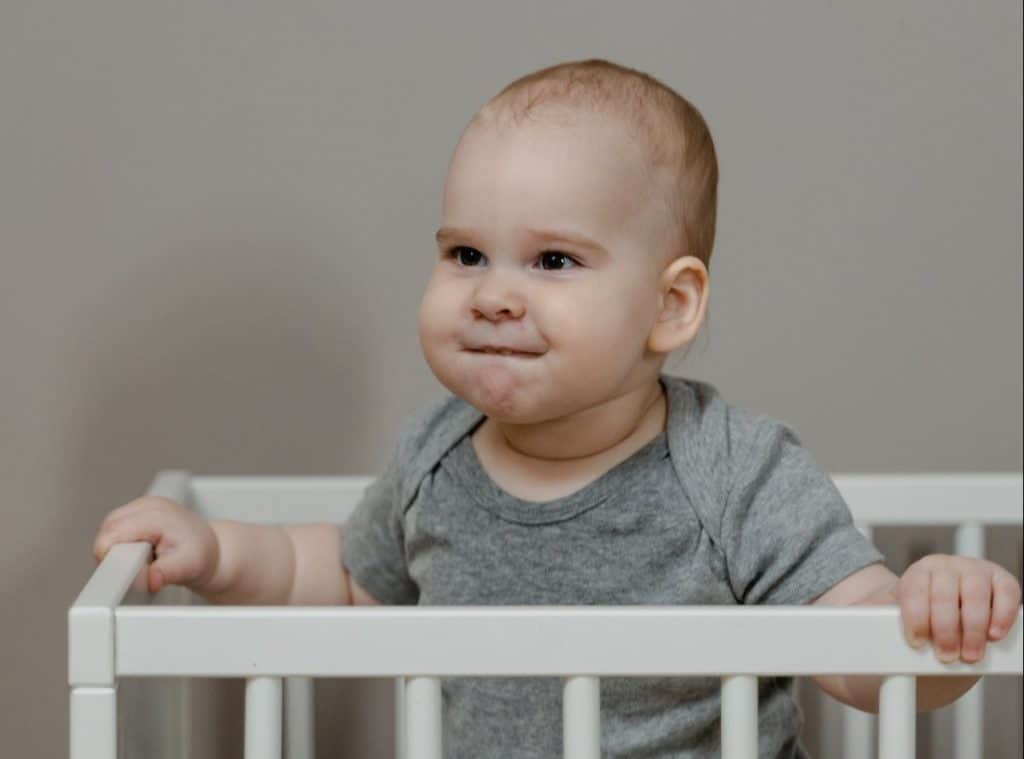 Some babies are experts at jailbreak and can easily make their way out of structures meant to contain them. A baby can sleep at the bottom of a Pack N Play, but they might climb out when no one's looking. They might even tip over the device – with them still in it!
Once your baby can push up on their hands and knees and/or roll over, it becomes unadvisable to use the bassinet insert or attachment due to the risk of falling or rolling out. You will need to switch to using the bottom level of the Pack N Play for sleep.
Manufacturing Date and Safety Standards
While Pack N Plays do not carry expiration dates as car seats do, there are safety requirements that they need to comply with.
The safety standards for Play Yards and Pack N Plays were last revised on February 28, 2013. Pack N Plays made after that date should comply with those standards and be safe for baby use.
Aside from being made after February 28, 2013, a Pack N Play should also be in good condition, with no missing, broken, or loose parts. Inspect your Pack N Play before placing your baby in it, especially if you have a second-hand or previously used device.
A baby can sleep at the bottom of a Pack N Play, but all the parts need to be up to standard. Furthermore, all the components also need to be well-maintained to minimize accident risk.
The mesh sides should not have tears, loose threads, and holes. If the Pack N Play has wheels, make sure they can move smoothly and lock properly. The Pack N Play's mattress pad should be smooth, without any signs of warping or bubbling. If you need to replace the mattress, get one that is made for your specific model to ensure a proper fit.
Many companies offer replacement parts and accessories for Pack N Plays. You might even be able to get new parts free of charge if your device is still covered by a warranty.
Location
The placement of the Pack N Play in the nursery is also important when letting your baby sleep in it. Just like with a regular crib or bassinet, keep your Pack N Play at least a foot away from all walls and furniture, and 2 feet away from vents, windows, drapes, and blinds.
If your baby is sleeping in their own room, keep the Pack N Play close to the door so that you can get to them easily in the dark or during an emergency.
Which Pack N Play Attachments Can a Baby Sleep In?
Can you let a baby sleep at the bottom of a Pack N Play?
Yes – in fact, most Pack N Plays come with designated sleep spaces for your little one! That said, not all areas of a pack N Play are safe for your infant to doze off in.
If you are unsure of whether or not you can let your baby sleep in a certain area of a Pack N Play, refer to the user manual that comes with your model or reach out to your manufacturer's customer service.
Bassinet Insert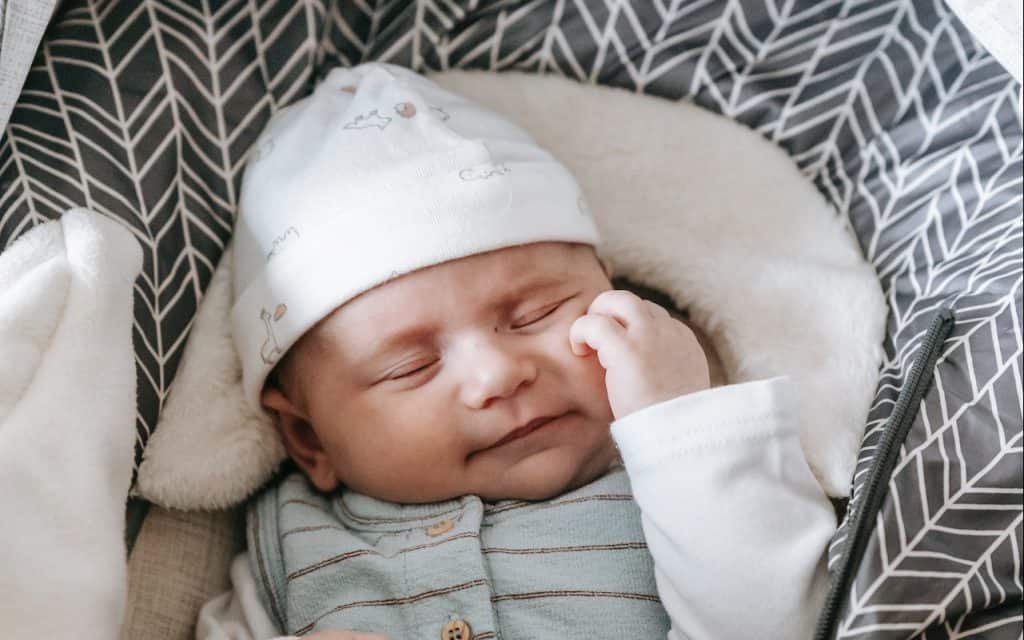 A bassinet insert is a firm flat surface that is suspended over the top of the bottom level of the Pack N Play for a baby to sleep in. Typically, the mattress pad that fits in the bottom level of the Pack N Play is the same one that is used for the bassinet insert. Bassinet inserts are safe for infants weighing up to 15 pounds to sleep in.
Bassinet Attachment
A bassinet attachment is raised over the top of the Pack N Play's main frame. Its size usually occupies half the length of the Pack B Play, with the other half of the space being for another attachment.
A bassinet attachment should have a firm and flat surface, and should not wobble once fastened to the Pack N Play. A bassinet attachment also has raised mesh or fabric walls to prevent your baby from rolling out.
Like a bassinet insert, a bassinet attachment is safe for infant sleep.
Bottom Level
The bottom level of a Pack N Play functions similarly to a bassinet insert, only with a larger height and weight limit. It is safe for infant sleep, provided that the mattress pad is flat, firm, and without any pillows, blankets, or soft toys.
Seat (Napper)
A seat, which some earlier Pack N Play models call a napper, is another attachment that fastens to the Pack N Play frame the same way a bassinet does. Seat attachments are padded, slightly inclined, and have a harness for you to secure your baby in.
Despite what the name may suggest, nappers are not safe for infant sleep. While this name is being phased out on newer models, some older Pack N Play models still refer to seats as nappers. You should not put your baby down for sleep in a Pack N Play seat, even if it is just for a nap.
Changing Table
Some Pack N Play models come with a changing table or changer attachment that fits alongside the bassinet or seat attachment.
Unlike a bassinet attachment, a changer does not have walls raised high enough to contain your baby during sleep. Outside of diaper changes, your baby should not be left on the changer.