One of the joys in taking care of a baby is dressing them up in adorable outfits. However, it won't be long before you begin looking for other ways to store all those baby clothes – especially if you don't have so much space to spare. Fortunately, there are several excellent storage ideas for small spaces you can use for your own nursery.
Even though you may have limited space, there are several different ways to make the most of what you have. For one, behavior such as efficiently folding the baby clothes and removing outgrown clothes should help keep things organized. There are also some products that can add more space to your nurseries such as extender rods, hangers with clips, baskets, dividers, hooks, door organizers, and rails.
This article will primarily discuss the different ways you can store baby clothes and have an excellent organizational system even though you're working with a small space.
10 Baby Clothes Storage Ideas for Small Spaces
Get an Extender Rod
If there's already a rod in the baby's closet, you can instantly double the real estate by getting an extender rod. Extender rods are excellent options for tall closets that still have a lot of vertical space. An extender rod is essentially a second rod that can be easily hooked onto the original rod.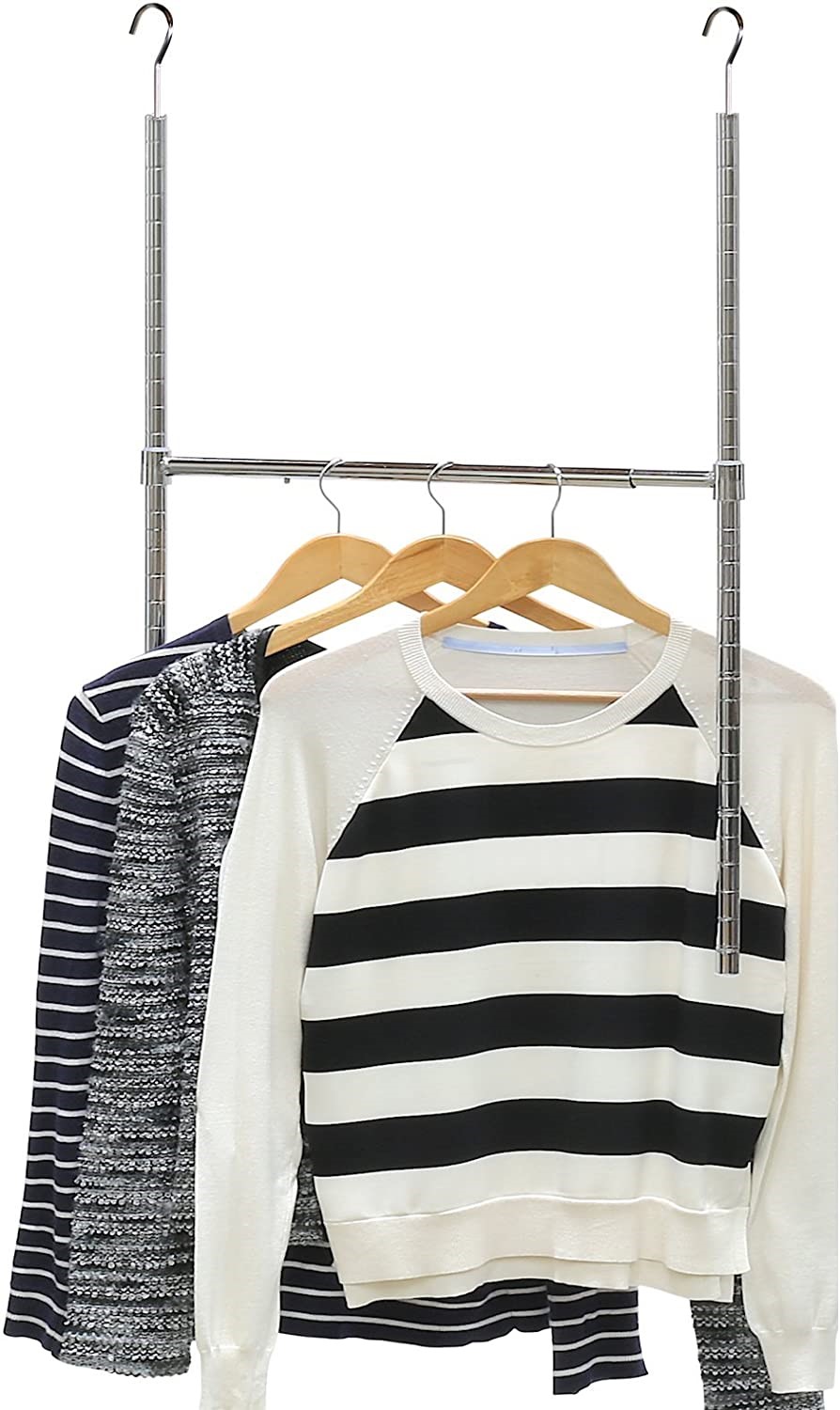 Fold the Baby Clothes
Even though they're already pretty small, it's highly recommended to fold your baby's clothes. These include folding onesies, shirts, swaddles, pants, and such. Folding clothes helps minimize the space they occupy, and it allows you to arrange them in a more manageable way.
It is also important to know that there are different ways to fold different articles of clothing. You should see which ways are easier for you to do, or which ones work best for your baby's clothes.
For example, a simple way of folding pants would be simply to fold the pants lengthwise and then fold them again crosswise. While that can be enough for some people, other people might go the extra mile and actually roll the pants as well. The smaller you can make the clothes, the better you can arrange them in the closet later on.
Based on experience, you'll know that there are some ways of folding clothes that are more efficient than others. Some ways of folding still end up with a bulky mass instead of something streamlined and neat.
Folding is an easy way to maximize the baby clothes storage space you already have. Not only does folding allow you to possibly keep more items than before, but it also helps organize the baby clothes in a way that makes them easier to access.
Get Hangers with Clips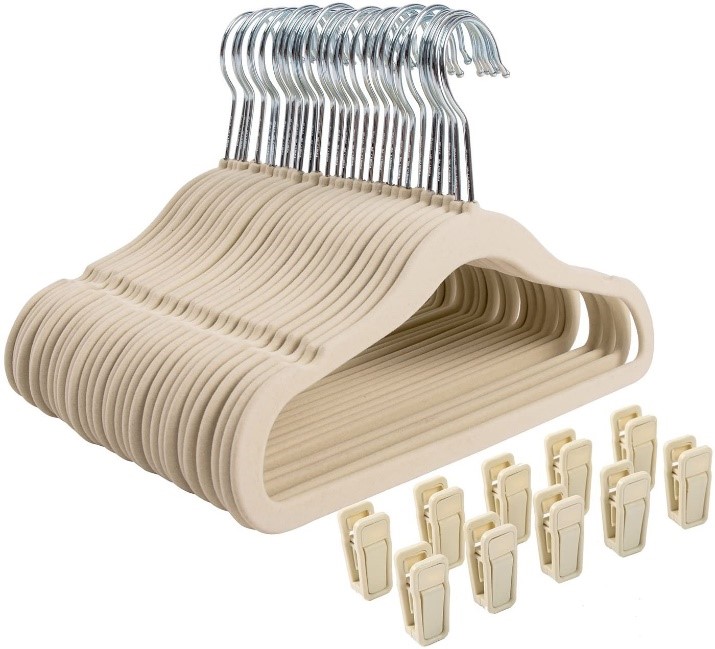 Instead of getting normal hangers for your baby's clothes, it is recommended to get hangers with clips instead. These allow you to save more space as you can use these hangers for more clothes instead of the normal ones. For example, a normal hanger would be able to hold a shirt. However, you can do the same with a hanger with clips and still be able to clip on a pair of pants at the same time.
The best thing about hangers with clips is that it even allows you to set up different outfits in advance. By hanging on a shirt and pants from the same hanger, you can simply take a hanger out of the closet when you're ready to get your baby changed. This means that not only can a hanger with clips help save you space, but it can possibly even save you time as well.
Use Shelf Dividers
A great baby clothes storage idea for a small space is to use shelf dividers. When you have little space to work with, you have to put in the effort in preventing that little space from becoming a mess. One of the best things you can do for your baby clothes storage space is to get yourself some shelf dividers.
Shelf dividers are excellent products that could help turn a drawer or a shelf into something more organizational. By having multiple compartments for different articles of clothing, you efficiently make the most of your allotted space. Shelf dividers are also great because they allow you to have higher stacks without the risk of them toppling over the other clothes.
Organizing your space by making compartments makes life easier by having predetermined areas for certain articles of clothing. This saves you time as you know where everything should be.
Use Closet Dividers
Just like being able to efficiently organize your shelves and drawers, you can also get some closet dividers to help group hangers into certain categories. These closet dividers look like large tabs that you can hang on the rod, separating hangers into groups.
For example, you can hang the onesies on one end, then hang a closet divider before you begin hanging shirts. This also helps you find clothes faster, as well as makes the closet look neater and tidier. Other closet dividers are also used to separate clothes of different sizes since your baby will be growing out of clothes very quickly.
Use Baskets
If you've used up all your baby clothes storage spaces in the nursery, an easy storage idea for small spaces is by using baskets. Baskets are great choices for baby clothes storage because you can get baskets that match the aesthetic of your nursery while being incredibly functional.
Once you have baskets, it's just a matter of finding where you can place them. Empty shelves are a good option for baskets, but you can even put baskets underneath the crib and above wardrobes.
Given the choice of smaller or bigger baskets, you might want to get smaller baskets. Smaller baskets would be easier to store, and the more baskets you have, the more organization you can do. Each small basket can be designated to hold a particular article of clothing.
Aside from using baskets conventionally, you can take your creativity to a whole new level and mount the baskets on the wall. Doing so will give you these basket shelves that will be easy for you to access.
Use a Door Organizer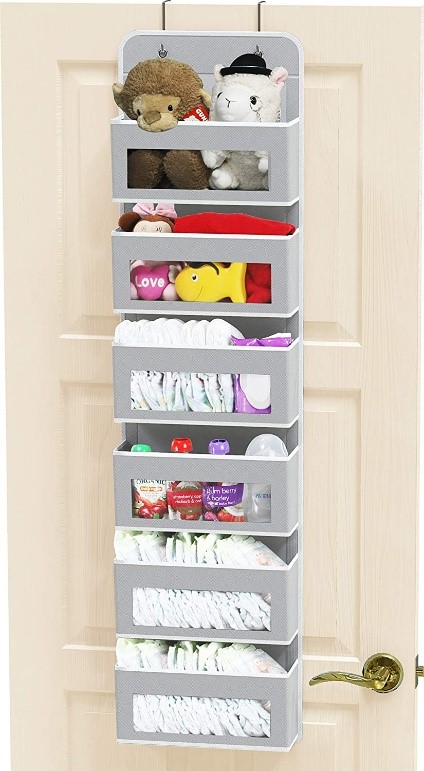 Another good baby clothes storage idea for small spaces is to use door organizers. When dealing with a smaller space, it is important to maximize every inch of space you've got. For example, you should get a door organizer to make use of that empty space. Instead of a bare door inside the nursery, you can turn it into multiple pockets for baby clothes and other assorted baby items with a door organizer.
Door organizers are especially easy to set up since all you'd need to do is hang the hooks of the door organizer over the door.
Get Hooks
While on the subject of maximizing every inch of the space you're dealt with, another item that you can use to maximize space is a hook. Hooks can easily be mounted on walls, either by screw or by suction, and can instantly turn a blank area of a wall into something more functional.
You can hang clothes directly onto hooks. For example, you can keep bulky sweaters and coats on hooks and leave the wardrobe for smaller articles of clothing. This maximizes the space inside your wardrobe.
Another option is to hang pouches or baskets onto these hooks for even more baby clothes storage space. Just remember not to use the wall beside the crib as you don't want to risk things falling on the baby.
Remove Outgrown Clothes
While the tiny clothes your baby has outgrown are super cute, you should be decisive enough to remove outgrown clothes from the nursery. Babies grow pretty quickly so you might have to do this after every few months.
By removing outgrown clothes, you strictly dedicate the space within the nursery for clothing that the baby can actually wear.
Baby clothes can be expensive so don't throw out your baby's outgrown clothes. Keep them in a box and prepare them for long-term storage as these clothes can still be worn by another baby in the future. They can also be given away to a close friend or family member who might have a baby of their own. It is recommended to keep similar-sized clothes in separate boxes and have them labeled properly. This will make finding them in the future significantly easier.
Add Rails Under Shelves
You don't have to limit yourself to hanging baby clothes on the rod inside the closet. You can also add underneath certain shelves. This adds an incredible storage idea for small spaces as it gives you a place toin hang more clothes on. This is especially useful for nurseries that don't have closets with rods.
Understandably, you can only add rails to the lowest level shelves because you might not have enough space in between multiple shelves.
Since the clothes will be openly visible, it is highly recommended that you organize the baby clothes on the rail in an aesthetically pleasing way. This could either be arranging them by size or even arranging them by color. Either way, you have to put in the effort to avoid making it look messy.
If you don't want the clothes to be visibly seen on the rail, you can also add a curtain in front of the rail. This makes the space underneath the shelf into an actual compartment of its own.