Are you tired of playing the same old baby shower games? Want to plan something unique and fun for your friend or family member's baby shower?
While traditional baby shower games can be fun, they're not for everyone. Fortunately, there are plenty of fun and creative activities you can do at a baby shower besides traditional games. From DIY crafts to baby-themed trivia, there's no shortage of ways to keep your guests entertained and engaged.
In this article, we've rounded up 15 fun and unique activities you can do at a baby shower besides games. The key is to think outside the box and tailor your activities to suit the tastes and interests of your guests while also incorporating elements of the mom-to-be's personality and style.
Things to Do at Baby Shower Besides Games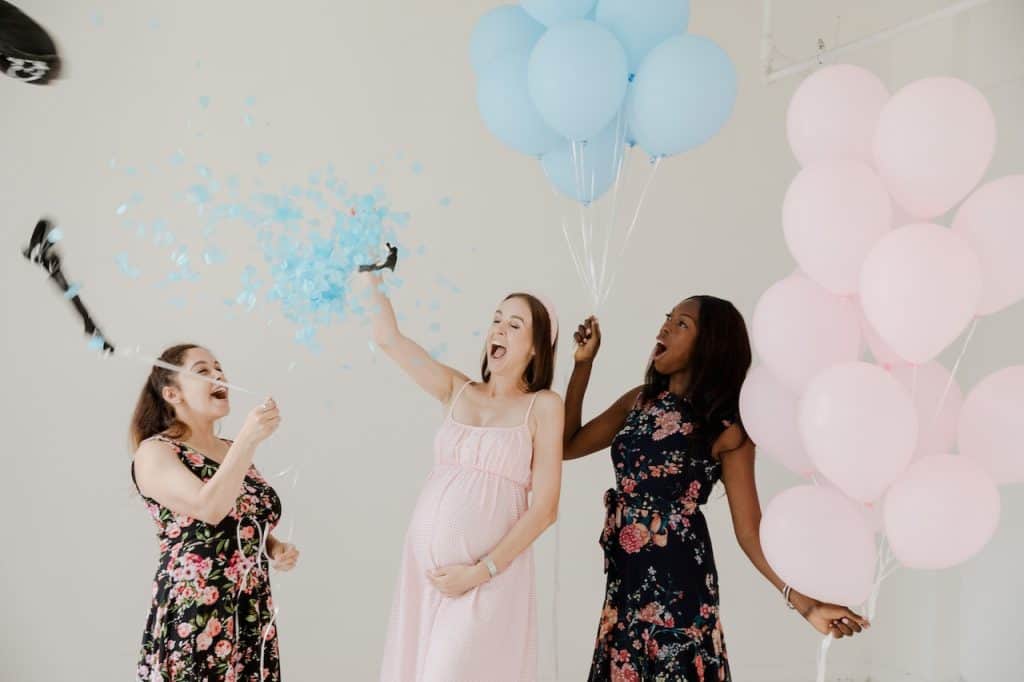 1. DIY Onesie Station
First on our list is a DIY station. This is a great option if you want to get your guests involved in some hands-on crafting. Set up a table with plain onesies, baby bibs, or even baby socks, and provide fabric paint, markers, stickers, and other fun ornaments.
Your guests can let their creativity shine as they customize their own baby clothes for the mom-to-be. It's a perfect way to create a personal gift that the mom-to-be will treasure long after the shower.
2. Memory Lane
Take a trip down memory lane by asking guests to bring a photo of themselves as babies and display them on a table. Have everyone guess who is who and share stories about their childhood. This activity is a great way to get to know each other and bond over shared experiences.
3. Advice for Mom-to-Be
Instead of traditional baby shower games, why not have guests share their best advice and tips for the mom-to-be? Set up a station where guests can write down their pearls of wisdom or have a group discussion where everyone shares their experiences and insights. This is a great way to provide some support and encouragement for the new mom.
4. Belly Art
Let your guests get creative by having a belly art station. Provide washable paint or markers and let guests decorate the mum-to-be's baby bump. This is a fun and interactive activity that everyone will enjoy.
5. Baby Clothesline
Get practical with a baby clothesline activity. Set up a clothesline with baby clothes and accessories, and have guests guess the prices of each item. The guest with the closest guess wins a prize, and the mom-to-be gets to keep all the cute baby clothes!
6. Baby Name Game
Get everyone involved in the baby naming process with a fun and interactive game. Provide a list of baby names, along with their meanings and origins, and have guests vote on their favorites. You can also have guests suggest their own baby names, and the mom-to-be can choose her favorites.
7. Diaper Raffle
Everyone loves a good raffle, and this one is both practical and fun. Ask guests to bring a pack of diapers as their entry fee and enter them into a raffle for a prize. This is a great way to help the new parents stock up on diapers, and guests will have fun participating.
8. Wishes for Baby
Have guests write down their wishes and hopes for the new baby. These can be funny, serious, or sentimental – whatever strikes their fancy. Collect the wishes in a jar or keepsake box, and give them to the mom-to-be to read whenever she needs a pick-me-up.
9. Baby Food Tasting
Set up a station where guests can taste different baby foods and guess the flavors. You could also create a baby food guessing game by having guests blind taste-test baby foods and try to guess which one is which. It's a fun way to get everyone involved and bring out the competitive spirit.
10. Decorate the Nursery
Get a head start on nursery decor by having guests decorate onesies or bibs with fabric paint, markers, and other embellishments. This is a fun and practical activity that the new parents will appreciate.
11. Baby Time Capsule
If you're looking for a more sentimental activity, a time capsule is a great option. Provide guests with materials to write letters to the baby, create art, or include other mementos that the baby can open on a future birthday. It's a special way to involve everyone in creating memories that the baby can look back on for years to come.
12. Onesie Decorating Contest
Take the onesie decorating to the next level by having a contest. Provide plain onesies and all the decorating supplies, and have guests compete to create the cutest or most creative onesie. The winner gets a prize, and the mom-to-be gets a whole bunch of adorable onesies for her baby.
13. Baby Shower Bingo
Put a baby shower spin on the classic game of bingo by creating bingo cards with baby-related items. As the mom-to-be opens her gifts, guests can mark off the items on their bingo cards. The first guest to get a bingo wins a prize.
14. Diaper Decorating Contest
If you want to get really creative, have a diaper decorating contest. Provide plain diapers and all the decorating supplies, and have guests create their own diaper masterpieces. The mom-to-be gets a supply of uniquely decorated diapers, and the winner gets a prize.
15. Baby Book Club
Another great activity to consider is a "Baby Book Club". Ask each guest to bring their favorite childhood book to the shower. During the party, have everyone take turns sharing why they love their book and read it aloud to the group. The mum-to-be will appreciate having a collection of books to read to their baby and it's a lovely way to share memories and create new ones.
Final Thoughts
To wrap it up, there are so many fun and creative things you can do at a baby shower besides traditional games. From Memory Lane to Baby Book Club, there is something for everyone. These activities not only provide entertainment but also create meaningful memories and special moments for the mom-to-be and her loved ones.
So, next time you're planning a baby shower, don't hesitate to mix it up with some of these unique and exciting ideas. Your guests will thank you, and the mom-to-be will surely appreciate the thought and effort you put into making her special day even more memorable.