Babies and cribs are almost always associated with one another. However, it is important for new parents to understand that cribs are not their only option. In fact, there are several different crib alternatives that have their own merits – making them well worth the consideration.
The classic crib alternatives people turn to include bassinets and Moses baskets. These are timeless pieces of equipment that have their own merits compared to a standard crib such as portability and convenience.
However, there are also other creative crib alternatives such as pack n' plays, floor beds, and cardboard boxes. These are also viable options that can effectively substitute for a crib. While some parents also consider bedsharing, it might be safer for the baby to avoid this option if possible.
This article will discuss 6 crib alternatives that parents can look into. Just like cribs, these alternatives have their own pros and cons which will be explained to ensure that parents can make the best decision for their baby.
1. Bassinets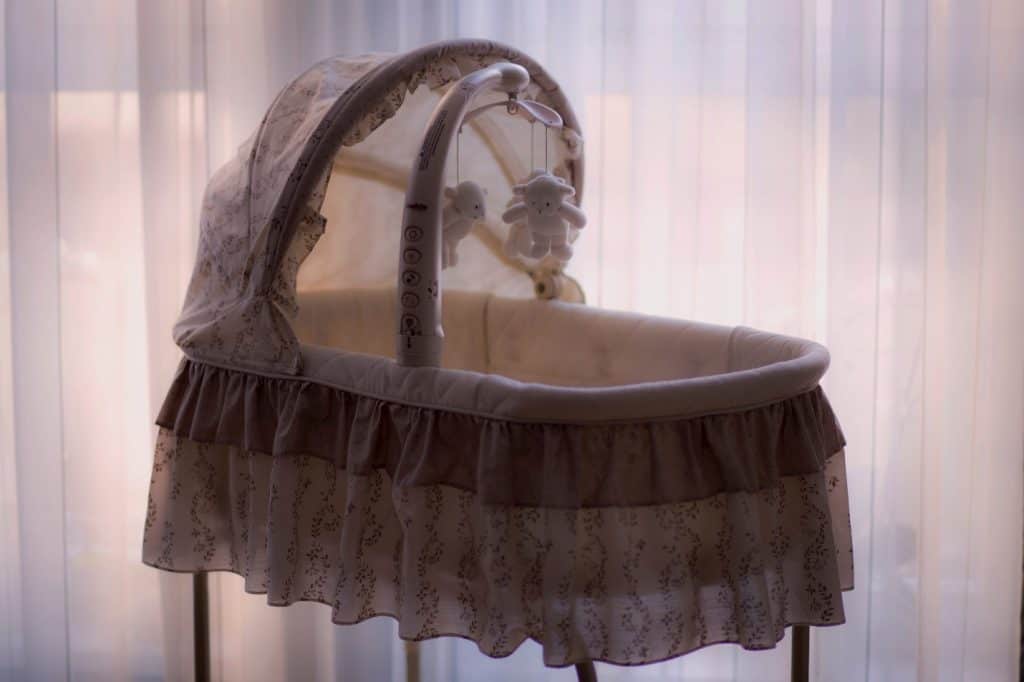 Pros:
Portability
Can be converted into a bedside sleeper
No assembly required
Cheaper
Cons:
Short lifespan
Lower weight capacity
Perhaps the first alternative that people often consider instead of a crib is the bassinet. While a crib and a bassinet may differ in structure and construction, the two offer similar functionalities – they are both infant beds.
The primary difference between a crib and a bassinet may be the design. A crib is traditionally designed like a cage: it has high vertical slats that prevent the baby from escaping. Unlike a crib, a bassinet is more geared toward sleep. It can be as simple as a basket on standing legs.
While most parents get cribs for their babies, many parents opt to begin their journey with a bassinet due to a number of advantages.
First, bassinets are often smaller and easier to move around. The size doesn't matter too much, especially in the first few months of a baby's life. This makes bassinets an excellent choice for newborn infants. Smaller bassinets also mean more space economy inside the house compared to a large crib.
The smaller size of bassinets also means that most bassinets are sold as is – unlike large cribs that often have to be assembled. This makes bassinets more convenient for people who do not have the tools and skills necessary for assembling a crib.
Second, bassinets can often come with a drop-down side which parents use when positioning the bassinet beside their bed. It is quite common for parents to have their newborn infants sleep in their bedroom for the first few weeks and having a bedside bassinet significantly increases convenience.
Compared to a crib, the drop-down side mechanism of bassinets to turn them into bedside sleepers is way safer compared to drop-side cribs. The Consumer Product Safety Commission has reported numerous safety issues with drop-side cribs until drop-side cribs have been outlawed completely.
Lastly, parents should be able to find bassinets cheaper than cribs. As taking care of a baby can quickly rack up expenses, economical choices such as this can make a big difference.
Unfortunately, bassinets do come with disadvantages. Since bassinets are smaller than cribs, babies will eventually outgrow bassinets. The small size is the reason why bassinets are often used only from infancy to the first few months.
Since bassinets do not have high walls like cribs, it is highly recommended for parents to stop using bassinets as soon as their baby begins moving around or standing up.
Aside from being smaller, bassinets also have a lower weight capacity due to their smaller construction. While cribs are typically rated to hold up to 50 pounds, most bassinets can only hold up to 15 pounds. Since there are different types of bassinets, some might be able to hold up to 30 pounds.
Taken altogether, the criteria for stopping the use of bassinets mean that a bassinet in your home will be quite short-lived.
2. Pack N' Plays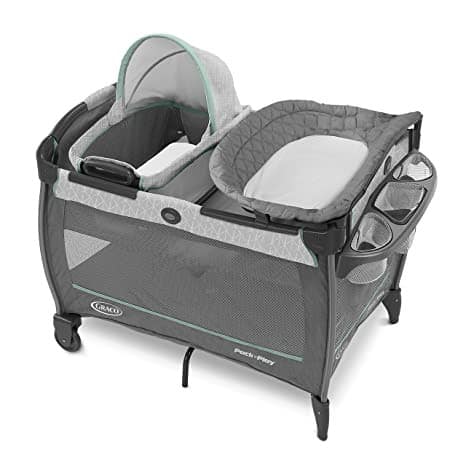 Pros:
Portability
Easy assembly and disassembly
Versatile accessories: bassinet and changing station
Cons:
Lower weight capacity
Aesthetically limited
For parents who like to travel, a pack n' play (also known as a playard or playpen) is almost necessary. Pack n' plays are versatile pieces of equipment that provide parents with a safe space for their babies to play and sleep.
A pack n' play is constructed to resemble a crib. However, instead of having wooden slats, pack n' plays are walled off with mesh fabrics. This soft fabric construction ensures that the baby is safe within the pack n' play at all times.
One of the main selling points of pack n' plays is that they can be assembled and disassembled easily, making them incredibly convenient for parents who travel often. Travel does not necessarily mean going on vacations as pack n' plays can be worthwhile even with just weekend trips to the grandparents.
Perhaps the easiest way to explain pack n' plays to people who have never heard of them is to compare pack n' plays to portable cribs.
The versatility of pack n' plays is multiplied by the availability of various accessories. While the main space inside of the pack n' play serves as a safe space for the baby to play and sleep, the top part of the pack n' play can be outfitted with accessories.
Two main accessories are typically associated with pack n' plays: bassinets and changing stations. These accessories can be easily and safely attached to the top of the pack n' play, quickly transforming the pack n' play into something more.
This also means that the versatility of such equipment would save parents tons of space compared to getting a crib, a bassinet, and a changing station as well.
While these pros make pack n' plays incredible crib alternatives, they also have some disadvantages.
Since pack n' plays are designed for portability, they are constructed with lightweight materials. For traveling and moving around, its lightweight feature is a bonus. However, this very feature also makes pack n' plays limited in terms of weight capacity.
Most pack n' plays come with a 15-30 pound weight limit. Even if the bottom of the pack n' play is resting on the floor of the room, the weight capacity is still followed as the baby can possibly topple the pack n' play over, especially if the baby is already able to move around and stand up.
Due to the materials used for constructing pack n' plays, some parents also find them to be more unappealing than cribs. Since cribs are mostly wooden, parents can simply get non-toxic paint and decorate cribs to match the nursery.
3. Floor Beds
Pros:
Conveniently available
Portable
Timeless
Cons:
Child-proof room required
No control over the baby's movement
When choosing among the various crib alternatives, sometimes simplicity is the key – and no other crib alternative is as simple as a floor bed.
For an infant bed, people typically envision a mattress enclosed by some form of walls. However, a floor bed is much simpler than that. A floor bed is essentially a mattress on the floor. While the American Academy of Pediatrics advises against blankets and pillows, all you need on the mattress is a fitted sheet.
There are a number of reasons why parents would opt to get their baby a floor bed. For one, it is an easy option to choose. A floor bed can simply be an infant mattress on the floor. In fact, any mattress should suffice. Hence, parents wouldn't need to buy anything else if they already have an extra mattress.
The use of a floor bed is part of the Montessori philosophy which is why floor beds can also be known as Montessori floor beds. The Montessori philosophy highlights the importance of independence to a child's development.
The independence in using a floor bed is that children are allowed to get on and off their floor mattresses whenever they want.
The simplicity of a mattress on the floor also means that the baby can continue to use the floor bed as they grow. Unlike a crib or a bassinet, floor beds cannot be outgrown.
Furthermore, a mattress on the floor is significantly easier to move around compared to a standard crib. While the floor bed can be placed in the nursery, parents often use a floor bed inside their own room when transitioning their babies from bedsharing.
Understandably, there are some downsides to such a method. For one, the use of a floor bed needs the parents to understand that the baby can get out of bed on their own. This requires that the room where the floor bed is should be child-proofed.
It is also necessary for the room to be carpeted to protect the baby when getting off the floor bed. For rooms that are not carpeted, an alternative is to place a heavy rug underneath the floor bed, extending beyond the floor bed itself.
Giving the child independence can also mean difficulty in keeping them in bed. This is a challenge that has to be balanced when giving babies such independence at these early ages.
While it may sound odd for many parents, the fact that it is included in a popular education philosophy such as Montessori can attest to its widespread use, safety, and benefits.
4. Moses Baskets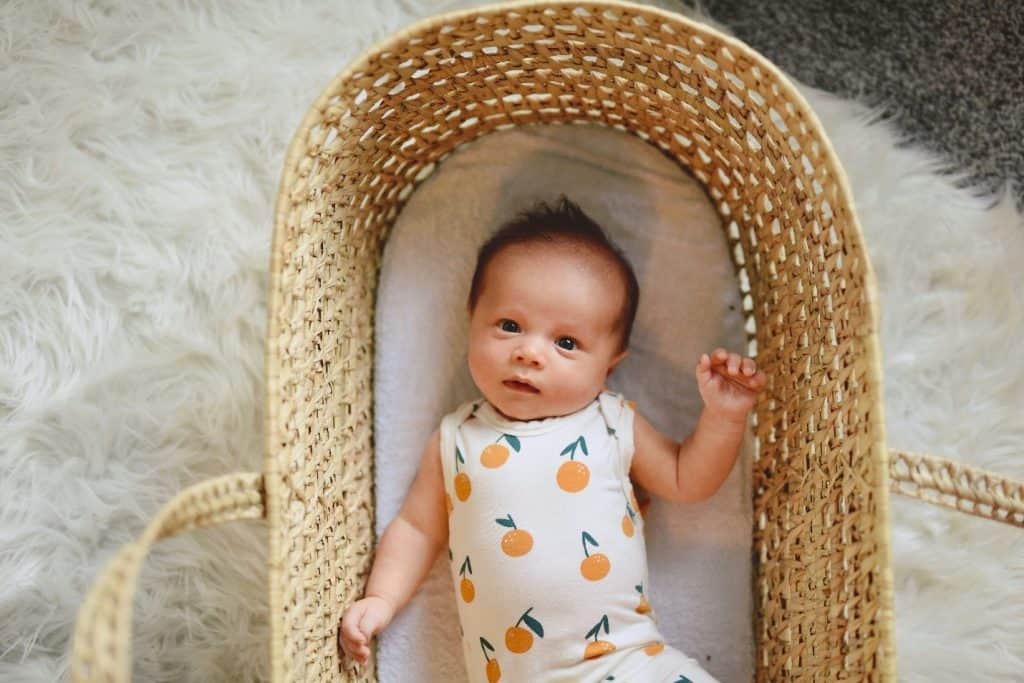 Pros:
Cons:
For parents that are considering getting a crib alternative, another popular option is a Moses basket. As the name suggests, Moses baskets are often made of strong wicker or similar material, making them resemble baskets.
For the most part, Moses baskets are essentially bassinets – except for the fact that they look like baskets. Just like bassinets, they are infant beds that are smaller than cribs. Some Moses baskets come with a stand while some come as is. Without a stand, the Moses basket has to be placed on a firm flat surface such as a table or the floor.
The primary reason why parents opt to get Moses baskets is how they look. Especially for parents who have decided on a minimalist nursery, Moses baskets fit perfectly with its modern yet rustic look.
Just like a bassinet, the Moses basket is incredibly portable. Aside from its small size, the material used for making Moses baskets also makes them quite light, making them easy to carry and move around. The smaller size also means more space for the parents for other things.
Since the bassinet is the most similar comparison to a Moses basket, the disadvantages are similar. The smaller construction of Moses baskets means that babies will outgrow them quickly. Unlike cribs that can be used until the baby turns into a toddler, Moses baskets will be fine only until 4-6 months.
Though parents will only be using Moses baskets for a little while, many opt to get them anyway for the beautiful pictures they will be able to take with their babies in them.
5. Bedsharing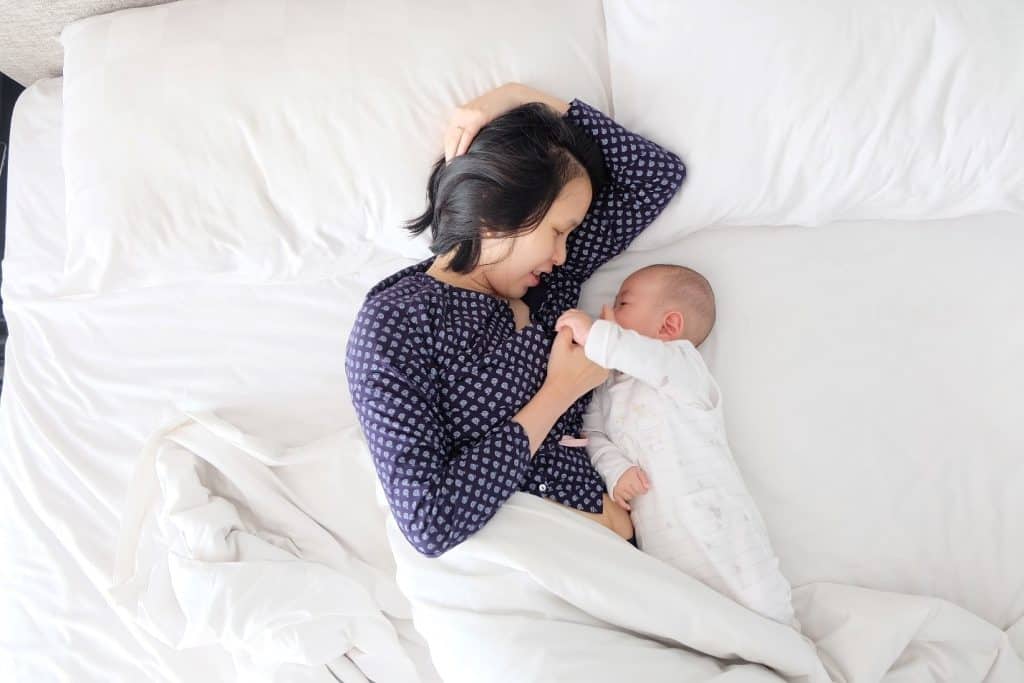 Pros:
Promotes breastfeeding
Convenient
Cons:
Instead of getting a different sleeping area for the baby, perhaps the easiest crib alternative is to simply let the baby sleep in the same bed as the parents. Bedsharing, also known as co-sleeping, is the process of sleeping with the baby in the same bed.
Research has shown that bedsharing is becoming more and more popular. The National Institutes of Health reports that the number of bedsharing babies doubled between 1993 to 2010. As of the publication of the report in 2013, an estimate of 14% of infants share a bed.
There is one overwhelming advantage to letting the baby sleep in the same bed: bedsharing promotes breastfeeding. The Academy of Breastfeeding Medicine states that bedsharing promotes various aspects of breastfeeding including initiation, duration, and exclusivity.
This makes bedsharing one possible solution for many mothers out there experiencing breastfeeding difficulties.
It also makes breastfeeding significantly convenient for the mother as she does not have to get up anymore when her baby is already right beside her.
Unfortunately, various authorities highly recommend against bedsharing.
While the American Academy of Pediatrics supports that bedsharing can have a positive effect on breastfeeding and even sleep synchronization, the group maintains that there are no scientific studies proving the safety of bedsharing.
The primary issue when it comes to sleep is the risk of Sudden Infant Death Syndrome (SIDS), the sudden unexplained death of babies younger than one year old in their sleep. Since SIDS occurs largely unexplained, recommendations to prevent SIDS are usually general.
The American Academy of Pediatrics has a wide array of recommendations for minimizing the occurrence of SIDS. These include using a firm mattress, room-sharing, avoiding smoke exposure, avoiding overheating, immunizations, and more.
The recommendations also include avoiding bedsharing. In fact, bedsharing has been suggested to be one of the leading causes of SIDS today. A study published in Pediatrics analyzed 8,207 infant deaths across 24 states from 2004 to 2012. It was found that an alarming 69% of those infants were bedsharing.
The American Academy of Pediatrics also includes case studies where bedsharing has been clinically studied to increase the risk of SIDS. These include bedsharing with a smoker, with someone impaired, with someone who is not a parent, on a soft surface, and with bedding accessories.
Thus, it is recommended that the baby is allowed on the bed for the benefits of breastfeeding. However, the baby must then be returned to a separate sleeping space afterward.
6. Cardboard Boxes
Pros:
Convenient
Lightweight
High weight capacity
Cons:
Requires a stand
Reduced air circulation
While it may sound silly, understand that this is not a joke. A perfectly viable crib alternative for your baby is to place them in a cardboard box. Once a baby mattress is placed at the bottom of the box, it should be ready for your baby to sleep in.
Cardboard boxes offer numerous advantages. Perhaps the first advantage of choosing a cardboard box as a crib alternative is convenience. Instead of going out and getting a crib, you might already have a decent cardboard box in your home.
Even if you do not yet have a cardboard box with you at home, it cannot be too difficult to get a cardboard box somewhere. Even if you have to purchase one, it shouldn't be expensive at all.
You must also already be aware that cardboard boxes are incredibly lightweight, making them easy to move from one area to another. Cardboard boxes can even be folded up, making them extremely convenient to store when not needed.
When it comes to weight limits, cardboard boxes have a wide range of weight limit capabilities. Standard cardboard boxes can be rated from 60 to 150 pounds while reinforced cardboard boxes (i.e., double-walled, corrugated, etc.) can even hold up to 300 pounds.
In that regard, that means that reinforced cardboard boxes might even be able to hold more weight than a standard crib traditionally rated for 50 pounds.
If you still think putting a baby in a box seems weird, it is important to take note that the Finnish government has been putting babies in cardboard boxes since the 1930s.
As part of their tradition, mothers receive a maternity package from the government which includes quick essentials such as various baby gear and items such as snowsuits, socks, diapers, thermometers, and more. Once the items are taken out, the box itself is then used as an infant sleeping area.
Even if you are not in Finland, you can take a page from their book and use a cardboard box as a crib alternative. However, you'll need to place the cardboard box on the floor or on some other firm surface. You might also want to add holes on the sides to help promote air circulation.